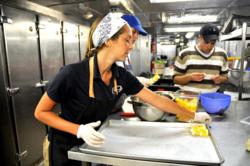 I love the way cooking and food bring people together world-wide, regardless of culture or background.
Garden Valley, TX (Vocus/PRWEB) March 07, 2011
Mercy Ships, a global charity serving the forgotten poor, is privileged to have highly skilled women volunteering onboard its hospital ship in various positions – nurses, surgeons, technicians, writers and other vital roles. This year on International Women's Day, Mercy Ships takes the opportunity to acknowledge a volunteer whose job with Mercy Ships is absolutely essential, but is not always properly recognized. Los Angeles gourmet chef-turned-volunteer Rachel Bethke ensures that the crew of the Africa Mercy never goes hungry.
For the past nine months, the twenty-three-year-old has served with Mercy Ships onboard its hospital ship in West Africa. Her days are spent planning, prepping and cooking meals for almost 500 people.
"It's hard work," Bethke says. "It demands long hours. I never knew the steps involved in planning to feed this many people. It's a pretty impressive operation." Along with Head Chef Jesse Mitchell, Bethke directs sous chefs and manages the timing of cooking so the food is hot and ready to be served when masses of hungry nurses, doctors, engineers, deck hands and support staff line up in the dining hall.
Growing up, however, Bethke did not have aspirations of becoming a chef. "In fact," the Minnesota native muses, "I always wanted to be a writer! But God had other plans." After a short stint in journalism school, Bethke enrolled in Le Cordon Bleu College of Culinary Arts in Pasadena, California.
"I love the way cooking and food bring people together world-wide, regardless of culture or background." After graduation, Rachel worked at the upscale restaurant, Reservoir, in Los Angeles, where her culinary skills were put to the test. The experience was amazing, but the high-stress, high-heat environment left Rachel drained at the end of the day. Cooking was her passion, but working in a kitchen in L.A. was not satisfying her soul.
Then Rachel's brother told her about Mercy Ships, and the concept of a floating hospital immediately piqued her interest. She checked the website and saw a position open for a cook. Instantly, she decided to apply.
Today, Bethke has completed nine months of service with Mercy Ships. After a brief trip visiting family and friends in the U.S., she will meet up with the ship in Sierra Leone for twelve more months of service.
"Working in the Galley onboard is very different from a restaurant environment in the states. My team is from all over the world," Bethke says. "There are cultural boundaries – including language challenges – that are hard to navigate." But at the end of the day, her soul is filled with joy because she is doing her part to benefit a cause greater than herself.
Mercy Ships is a global leader in using hospital ships to deliver free world-class health care and community development services to the world's forgotten poor. The organization brings hope and healing by mobilizing people and resources worldwide, and serves people without regard for race, gender, or religion. In 2010, Mercy Ships impacted over 450,000 lives in Africa.
Bethke believes that the mission of Mercy Ships aligns with her personal values. It's a perfect fit for the organization and for the young chef.
ABOUT INTERNATIONAL WOMENS DAY: International Women's Day, observed on March 8, is a global day celebrating the economic, political and social achievements of women past, present and future. The 2011 theme of International Women's Day is: Equal access to education, training and science and technology: Pathway to decent work for women
ABOUT MERCY SHIPS: Mercy Ships uses hospital ships to deliver free, world-class health care services, capacity building and sustainable development to those without access in the developing world. Founded in 1978 by Don and Deyon Stephens, Mercy Ships has worked in more than 70 countries providing services valued at more than $834 million, impacting more than 2.9 million direct beneficiaries. Each year Mercy Ships has over 1,200 volunteers from over 40 nations. Professionals including surgeons, dentists, nurses, health care trainers, teachers, cooks, seamen, engineers, and agriculturalists donate their time and skills to the effort. Mercy Ships seeks to become the face of love in action, bringing hope and healing to the poor. For more information click on http://www.mercyships.org
Contact Information
US Public Relations
Us.media(at)mercyships(dot)org
903.939.7017
Hi-res photos and general Mercy Ships video footage are available upon request.
# # #