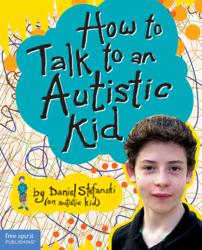 "A thought-provoking introduction to autism that should be welcome in families with autistic members and an essential purchase for every primary and middle school classroom."—Kirkus Reviews
Minneapolis, MN (Vocus/PRWEB) March 08, 2011
Meet Daniel. He's 14, loves golf and Star Wars. He volunteers at an animal shelter and wants to go to college to learn about computer animation. Daniel is autistic and just wrote his first book, HOW TO TALK TO AN AUTISTIC KID (Free Spirit Publishing, $12.99). Like every kid, Daniel likes to have fun and wants to have friends. But children with autism find communication to be one of their biggest challenges, which can be frustrating for autistic kids and for their peers. In the book, Daniel describes what it's like to have autism—and how to be a good friend to someone who's autistic.
One in 110 children and 1 in 70 boys are on the autism spectrum. In HOW TO TALK TO AN AUTISTIC KID, Daniel explains that while not all people with autism are exactly alike, they do share a few characteristics: difficulty with communication, a hard time understanding social situations, and the tendency to get intensely focused on one thing. The book answers many questions readers may have about their autistic peers, such as why does my autistic friend sometimes talk too loud or stand too close? Why won't he look me in the eye? Why does it seem like my friend doesn't understand what I'm saying? How should I act when we're together?
In HOW TO TALK TO AN AUTISTIC KID, Daniel explains that autistic kids don't always understand social cues like body language and figures of speech. He cites his recent obsession with Australia as an example of how kids with autism can get "stuck" on one thing. He says autistic kids are easily bothered by their five senses; for example, they're often sensitive to the feel of their clothes. Daniel is most bothered by loud noises and hard fabric. When he is upset, he calms himself down by humming loudly or buzzing like a bee. Daniel emphasizes that being different is okay. "Whether we have autism or not," he writes, "everyone does things sometimes that make others go, 'Huh?'"
With Daniel's personal voice and direct approach, HOW TO TALK TO AN AUTISTIC KID offers an inviting, nonclinical look into the mind of an autistic kid. Classmates, siblings, teachers, parents, and grandparents of autistic kids can all benefit from reading Daniel's account of living with autism. Daniel shows readers how they can reach out to autistic kids—be a hero and stick up for them if they're being bullied, invite them to sit by you at lunch, or volunteer to be a school buddy.
HOW TO TALK TO AN AUTISTIC KID will give readers the confidence and tools needed to befriend autistic kids. And with Daniel's upbeat and often funny advice, they'll feel like they've made a friend already.
Headquartered in Minneapolis, Minnesota, Free Spirit is the leading publisher of learning tools that support young people's social-emotional health and their educational needs. Free Spirit's mission is to help children and teens think for themselves, succeed in life, and make a difference in the world.
###