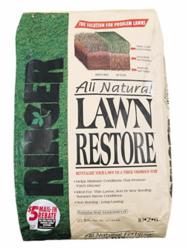 Ringer® Lawn Restore® is the greener, more affordable alternative
Lititz, PA (Vocus/PRWEB) March 22, 2011
Powerful enough for drought conditions or dry climates, Ringer® Lawn Restore® is gentle enough to use on newly seeded lawns, thanks to its all-natural formulation. The fertilizer, which has earned the prestigious OMRI Listed designation from the Organic Materials Review Institute (OMRI), relies on slow-release nitrogen derived from proteins to stimulate the lawn's naturally occurring microbes. In turn, those microbes support greater root development. The result is a greener, thicker, more resilient lawn within as little as three to five days.
In contrast to traditional synthetic chemical fertilizers, Ringer Lawn Restore will not burn your lawn and can be applied anytime during the growing season. A single application will last up to eight weeks -- and those living in phosphate-free zones can rest easy knowing Ringer® 0% Phosphate Lawn Restore® contains absolutely no phosphates. A 25-pound bag treats up to 2,500 square feet; a 40-pound bag treats up to 5,000 square feet.
Ringer Lawn Restore should be applied starting in the spring. It is effective on a wide variety of grasses, including Kentucky Bluegrass, Perennial Ryegrass, St. Augustine grass, Bermuda grass, Centipede grass and Tall Fescue.
"Many homeowners would like a greener, healthier lawn, but not everyone can pay a professional to help make that happen," stated Justin Emig, Safer® Brand category development associate. "Others don't want to rely on harmful chemicals or water excessively, especially in dry conditions. Ringer Lawn Restore is the greener, more affordable alternative."
For homeowners who would like to learn more about cultivating healthier lawns as well as organic gardening, Safer® Brand maintains an active Facebook community. There, gardeners can exchange ideas and gardening success stories, obtain gardening tips and view how-to videos to help keep their gardens, plants and lawns healthy and weed-free year-round.
For more information, please visit:
• Ringer Lawn Restore
• Tips About Fertilizing
• Shop Safer Brand Organic Products
• Follow us on Facebook
About Safer Brand
We are Safer® brand, Concern®, and Victor Poison-Free® - three strong brands recognized as world leaders in the organic pest control, organic plant disease control and organic gardening categories! We offer the broadest and deepest selection of quality organic bug control and plant disease control products at competitive prices. Our organic gardening products are targeted to meet the varying needs of you, the consumer! So, whether you are an experienced gardener or novice, there is a product to fit each and every situation.
Safer Brand, has been trusted by consumers since 1976 and is a division of the Woodstream Corporation located in Pennsylvania.
About Woodstream Corp:
Woodstream Corporation is a long-standing, privately held company and a leading manufacturer and marketer of quality-branded wild bird feeders, rodent control products, caring control products for pets and wildlife and organic solutions for lawns & gardens.
# # #