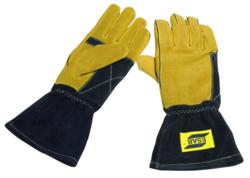 Florence, SC (Vocus/PRWEB) March 09, 2011
ESAB Welding & Cutting Products announces the launch of a new line of protective welding gloves. Part of ESAB's new Weld Warrior™ line of protection, these gloves combine the industry's latest protective technology with the greatest comfort and offer high resistance to heat and protection against spatter. All ESAB gloves are tested for their ability to stand up to mechanical stress such as abrasion, cut, tear and puncture, as well as thermal stress including exposure to an open flame, contact heat, convective heat, radiant heat, and splashes of molten metal. The line includes:
ESAB Curved MIG Glove – These superior new welding gloves from ESAB offer a new approach to fit, form and function. Ergonomically designed to fit the natural curve of the hand, this comfortable glove is made from heavy and fine-cut leather and is lined from hand to cuff. With the curved design, the glove fits the hand perfectly and provides a flexible wrist area that reduces friction. Welted seams, Kevlar® stitching and reinforced thumb make these gloves very strong and offer a high level of protection to the wearer.
Heavy Duty Black Welding Gloves – Made from black, strong cow-grain leather, these gloves allow high dexterity. Kevlar® stitching ensures that these fully welted gloves can resist hard mechanical stress.
Heavy Duty Aluminized Gloves – Two layers of cowhide make these gloves capable of withstanding extreme heat. The facing of aluminum-coated PFR rayon reflects 95% of the thermal radiation. These gloves are suitable for tubular wire welding. The glove is padded with CROMFOflex and is sewn with fourfold Kevlar®. The thumb is angled for high comfort.
ESAB Curved TIG Glove – Like the curved MIG glove, these superior new welding gloves offer a new approach to fit, form and function and are ergonomically designed to fit the natural curve of the hand for increased quality and comfort to the wearer. The TIG glove is made from thin, high quality leather, with improved fit for higher dexterity. Highly durable, with welted seams and Kevlar® stitching, these gloves are also extremely lightweight.
TIG Professional – This quality TIG gauntlet features a reinforced thumb and 5.1" long leather cuff. The palm is fully lined for increased comfort and protection.
ESAB Welding & Cutting Products is one of the world's largest and most knowledgeable manufacturers of welding and cutting equipment and welding filler metals. Recognized as the technological leader in the industry, ESAB is committed to providing customized solutions for its customers. For more information on column and boom systems or other automation equipment, visit http://www.esabna.com or call 1-800-ESAB-123.
# # #