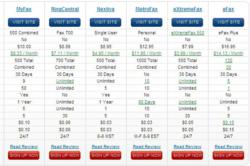 Faxage now offers a competitive and valuable service offering for those looking for quality, online fax service.
Austin, TX (Vocus/PRWEB) March 01, 2011
Online fax services are constantly upgrading the number of faxes and user accounts that individual or corporate accounts receive with an email fax service. Online-Fax.ChooseWhat.com, the ChooseWhat.com fax review portal, now includes a comprehensive review of the latest Faxage service plans that include 300 incoming and outgoing faxes for the same price as their 150-page plan, as well as unlimited user accounts and 5,000 minutes of usage time on corporate accounts.
When searching available online fax services, corporate decision makers can find the product comparison process to be cumbersome. Site visitors to the fax comparison section of ChooseWhat.com are able to take advantage of the product comparison grid for analyzing fax product or service price differences, extra features, and options and then sign-up for free trial or paying service accounts through the web portal.
The ChooseWhat labs staff obtain free trials of all faxing services covered on the website in order to learn the features of the product to highlight to site visitors as well as compile metrics to measure the company against other products. Once the initial review is completed, fax products are checked throughout the year for new features and price changes in order to update customers on the most current capabilities and discounts available on industry leading fax products.
Online-Fax.ChooseWhat.com manager, Koby Wang writes, "Faxage now offers a competitive and valuable service offering for those looking for quality, online fax service. The review of the product has been updated to reflect the latest service offering by the company and ensures our site visitors have the latest product information to make fax service choices."
The ChooseWhat Labs staff are constantly searching for new fax services and products to review and post for consumers' benefit. Updated services plans that significantly benefit consumers, such as the recent Faxage update, are posted throughout the year to keep site visitors informed of the latest industry trends.
About online-fax.choosewhat.com:
The ChooseWhat online fax comparison web site details more than 25 fax brand reviews. The online fax comparison grid makes selecting an online fax provider simple by presenting the pricing and available features of each provider across common features to ensure products are compared on a level footing. Detailed information is included regarding fax number options, sending and receiving faxes, pricing, and customer support reviews.
Contact Details:
401 Congress Avenue, Suite 1540
Austin, TX 78701, USA
Email : lindsey(at)choosewhat(dot)com
Phone No. 512-448-9033
Website: http://online-fax.choosewhat.com/
# # #