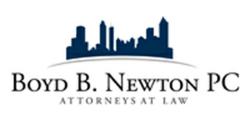 The three words Knowledgeable, Aggressive and Understanding best desribes our approach to handling personal injury cases
(Vocus/PRWEB) March 02, 2011
Boyd B Newton PC (a noteworthy personal injury attorney of Atlanta) launches a new website that provides a lot of helpful information. Being injured or having a loved one that has suffered a serious injury because of someone's negligence is painful enough. That is why he decided to offer a straight forward site for personal injury legal information. He felt an easy to understand website combined with answers to common questions would be welcomed by injury victims.
The three words that best describe Boyd B. Newton's practice are: Knowledgeable – Aggressive – Understanding. This Atlanta Law Firm has the knowledge to handle any Georgia Injury case. This combined with the willingness to act aggressively on behalf of their client's keeps and an in depth understanding of how insurance companies defend personal injury claims and lawsuits. This according to Mr. Newton has been the secret of their firm's success.
They handle all sorts of cases. However they have a considerable experience and handling truck wreck cases. Tractor Trailer collisions involving passenger cars often cause serious or even fatal injuries. The sheer size of commercial trucks combined with their speed can result in deadly accidents. This is the reason commercial trucking companies carry significant liability insurance. The new site will explain the first steps to take after you have received medical attention.
Boyd B. Newton handles a large assortment of legal cases. He handles lots of product liability cases, motorcycle accidents auto accident victims, medical malpractice, burn victims, slip and fall cases, and dog bite cases. Each case is researched and prepared with the upmost attention to details.
If you have been injured or know someone that has it would be a good idea to visit Boyd B Newton PC new website. You can learn more about his practice and perhaps even find answers to basic questions. To visit the website; just follow the link: Injury Lawyer Of Atlanta.
This was released by Click Ready Marketing an Atlanta SEO Agency.
# # #