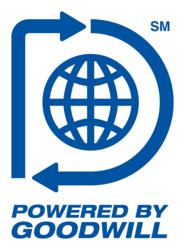 Rockville, MD (Vocus/PRWEB) February 28, 2011
Goodwill Industries International is pleased to announce that Hanes® — America's No. 1 Basic Apparel Brand ¹, with products in nine out of 10 U.S. households — and Planet Green™ — the television network devoted to sustainable living — are the newest partners to join the Donate Movement. Hanes and Planet Green join Family Circle Magazine and Levi's in a platform of iconic brands that support the Donate Movement, which encourages consumers to consider the positive impact their donations have on both people and the planet.
HANES AND GOODWILL
Spring cleaning kicks off early with Hanes and Goodwill® partnering to launch a Clean Out Your Drawers effort in March. Hanes recently conducted research that sheds light into the usually dark spaces of our closets and drawers. According to a national survey commissioned by Hanes, most people wear only 70 percent of the items inside their drawers. Together, Hanes and Goodwill will encourage the public to organize, donate and replenish. The program was developed in response to an overwhelmingly common occurrence of cluttered, messy drawers and offers fun and easy solutions for getting organized.
"As a partner in Goodwill's Donate Movement, Hanes is increasing public knowledge of what it means to donate responsibly," said Jim Gibbons, president and CEO of Goodwill Industries International. "Together, Goodwill and Hanes are asking consumers to make a commitment in reducing their environmental impact by cleaning out their drawers and donating those items to Goodwill, where they will help to provide job services for millions of people."
"Hanes is proud to partner with Goodwill® to raise awareness of the Donate Movement. We wanted to use this program to highlight the power of responsible donations and what that can mean for communities," said Sidney Falken, senior vice president, Hanes brand. "We've learned through research that many people hold on to items they no longer need but these items can actually be used again and have a second life. That's why Hanes partnered with Goodwill to educate people about the benefits of donating items they no longer need, while making room for new updates of their favorite apparel items."
Visit http://www.Facebook.com/Hanes for more information and tips about Cleaning Out Your Drawers.
PLANET GREEN AND GOODWILL
Planet Green and Goodwill are working together to educate the public on ways they can actually make the world a better place.
"It's the idea of conscious living," said Laura Michalchyshyn, president and general manager of Planet Green. "As partners of the Donate Movement, we are asking viewers to consider the small ways they can help their community and the environment by giving to reputable organizations like Goodwill that turn donations into jobs."
Part of the Goodwill and Planet Green partnership includes the launch of the network's new docu-series, Dresscue Me, premiering in April featuring self-taught designer Shareen Mitchell. Owning stores on both coasts, Mitchell works with every day women on her show to turn vintage clothing finds into chic, fashion-forward frocks.
"Planet Green will enable us to channel our 'repurpose' message to millions of viewers who understand what it means to give a new purpose to existing material," continued Gibbons.
To find out what items are accepted and where to donate, locate your closest Goodwill at http://locator.goodwill.org.
About the Donate Movement
The Donate Movement is a global movement inspiring consumers and businesses to join Goodwill in promoting the positive impact donating has on people and the planet. For nearly 110 years, Goodwill has been an environmental pioneer and social innovator of the "reduce, reuse, repurpose" practice. Last year, Goodwill diverted more than 2 billion pounds of donated goods from landfills, and used the revenues form the collection and sale of these donated goods to fund job training programs in the communities where they were received. An industry-first, Goodwill's patent-pending Donation Impact Calculator converts donations into their social impact. To learn more about the Donate Movement or to calculate your impact, visit http://donate.goodwill.org.
About Goodwill Industries International
Goodwill Industries International is a network of 165 community-based agencies in the United States and Canada with 14 affiliates in 13 other countries. Goodwill is one of North America's top five most valuable and recognized nonprofit brands as well as a leading social services enterprise (Source: Cone Nonprofit Power Brand 100, 2009). Goodwill operates more than 2,500 retail stores and the first and only nonprofit Internet auction site, shopgoodwill.com. Local Goodwill agencies also build revenue and create jobs by contracting with businesses and government to provide a wide range of commercial services, including packaging and assembly, food service preparation, and document imaging and shredding. Last year, more than 2 million people in the United States and Canada benefited from Goodwill's career services. Goodwill channels 83 percent of its revenues directly into its programs and services. Twitter: @GoodwillIntl. Facebook: GoodwillIntl.
About Hanes
Hanes, America's No. 1 Brand of Apparel Essentials ¹, is a leading brand of intimate apparel, underwear, sleepwear, socks and casual apparel. Hanes products can be found at leading retailers nationwide and online direct to consumers at http://www.Hanes.com. Hanes is a flagship brand of Hanesbrands Inc. (NYSE: HBI) (http://www.Hanesbrands.com). Twitter: @HanesComfort. Facebook: Hanes.
About Planet Green
Planet Green is the multiplatform media destination for people looking for something new. Launched on June 4, 2008, Planet Green is following the evolving conversation about sustainability and is the entertainment brand that champions the visionaries who move our world forward in small and large ways. Planet Green and its two robust Web sites, planetgreen.com and TreeHugger.com, offer unique, insightful and inspiring content related to how we can evolve to live a better, brighter future. Planet Green's original programming, digital tools and content will entertain, educate and activate.
CONTACT:
Lauren Lawson-Zilai
Goodwill Industries International
Phone: (240) 333-5266
Lauren.Lawson(at)goodwill(dot)org
Jennifer Zaitz, Weber Shandwick
Hanes
Phone: (212) 445-8273
jzaitz(at)webershandwick(dot)com
Erin Calhoun
Discovery Communications
Phone: (212) 548-5183
Erin_Calhoun(at)discovery(dot)com
¹ The NPD Group / Consumer Tracking Service, R12 Sep 10, Unit Share
###