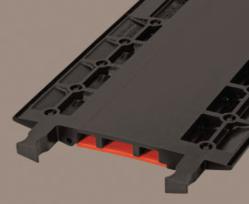 Broomfield, Co (Vocus/PRWEB) March 08, 2011
The safety benefits of Guard Dog® Low Profile cable protectors with standard ramps is unmatched with the latest availability of VELCRO® Brand Fasteners. This add-on feature attaches to the bottom of the protectors and grips carpeting for anti-slippage properties. Available from Checkers® Industrial Safety Products, these protectors with VELCRO® Brand Fasteners are useful in a wide range of industrial and broadcast settings, trade shows and office space with multiple cubicles. The VELCRO® Brand Fasteners will stick to any carpeted surface, ensuring the safety of pedestrians and wheeled carts and vehicles passing over valuable cables and wires.
Cords of all types running across the floor can include telephone lines, multi-media electronic cables and electrical connections and are associated with many types of business locations. The potential for trips and falls is apparent, and the Guard Dog® protectors have a low contour with ramps to allow not only pedestrian traffic, but also crossing over by heavier vehicles up to 24,000 pounds per tire, with the addition of VELCRO® Brand Fasteners providing traction to the protector. An extra degree of safety is included in the packaging of the pads with Checkers® Clear Super Glue included in the order of the VELCRO® Brand Fasteners for the cable protectors.
Cords, wires and hoses can come in diameters of ¼"to 2 ¼ ", and any of these crossing a "walking/working surface," as described by OSHA, pose a trip and fall possibility. Checkers® Industrial makes choosing a cable protector simple by offering different widths for the cables, and also providing from one to five channels to carry multiple wires across a floor. Diameter or width of ¾"is the smallest channel available, with a measurement of 2 ¼"the widest. Another option is the flatter, wider channel measurement of a minimum ¾" height and maximum of 2 ¼" channel width, with a choice of sizes in between. To simply it even further, multiple smaller wires can be combined in one channel for excellent protection.
The durability of the Guard Dog® Low Profile cable protectors is covered by a one year warranty with the prospect of never needing replacement with proper assembly and usage. Multiple channels – one to five – are protected by a hinged lid to easily load the cables. Each 36" strip is connected to another with dog bone connectors – sturdy attachments to each other that also provide easy assembly across a room or warehouse. The three foot length makes the devices easy to store. The manufacture of the cable protectors uses reaction injection molding (RIM) technology, made from polyurethane with high load bearing capacity. All of the Guard Dog® cable protectors satisfy state and federal regulatory agency standards, with safety warning symbols molded into the lids. In addition, all Guard Dog® cable protectors are made in the U.S.
Guard Dog® Low Profile cable protectors permit compliance with the National Electrical Code requirements (Article 525) for minimizing the risk of trips and falls at special events such as trade shows, carnivals and fairs. A device such as a cable protector that has the potential to reduce nearly 4,000 injuries per year and 20 deaths (OSHA) in a huge range of work applications is gaining recognition by OSHA to protect US workers.
Checkers® Industrial Safety Products has been manufacturing and providing superior safety products for nearly 25 years. The company employs service professionals that are trained to provide safety products including cable protectors, wheel chocks and parking stops to improve the safety in the consumer and industrial markets. Most products are made in the USA using reaction injection molding by RimStar technology.
# # #