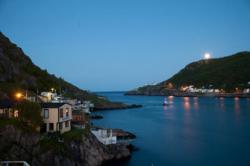 CapeRace provides tourists with a custom-made guidebook that allows them to explore the area at their own pace—the unique model has been heralded by National Geographic as one of the world's most "Transformative Travel Experiences."
St. John's, Newfoundland, Canada (Vocus/PRWEB) March 01, 2011
CapeRace™ Cultural Adventures, the only Canadian company selected as a finalist in the National Geographic/Ashoka Geotourism Changemakers Competition, was selected out of 250 entries from 54 countries as one of twelve finalists. The competition, "Places on the Edge: Saving Coastal and Freshwater Destinations" raises visibility of travel initiatives protecting coastal, waterway and island destinations that preserve the environment and strengthen the heritage and livelihoods of local residents.
"We were proud and touched to see many of our former guests and local partners vote for us. We believe it really goes to show how much people believe in the power of the experience we are providing," said Ken Sooley, founder of CapeRace.
What makes CapeRace so adept at preserving Newfoundland's environment and culture is its unique way of providing guidance, but without the guide: CapeRace allows tourists to discover Newfoundland for themselves through slow, personal and authentic exploration. CapeRace provides tourists with a custom-made guidebook that allows them to explore the area at their own pace—the unique model has been heralded by National Geographic as one of the world's most "Transformative Travel Experiences."
CapeRace's guidebook takes you to areas of Newfoundland laden with history and geographic character: the Titanic's first distress signal was received here; the world's oldest fossil was found here; the original untouched wreckage of a WWII plane sit in the hills. And there are plenty of personal characters here as well: the people of the Flat Earth Society believe it to be one of the four corners of the flat world. Peering over the ocean scoured cliffs at the end of a green and winding path, you might even start to believe it yourself.
CapeRace Cultural Adventures Inc. is a boutique travel company specializing in upbeat travel experiences at Canada's most eastern island of Newfoundland. CapeRace is the only travel company that transparently initiates real connections with the local community in a self-guided travel format. With spontaneity as your compass and your energy as your limit, you are sent on a scavenger hunt for colorful people and exotic places in an environment unmatched anywhere in the world.
For more information, email mail(at)caprace(dot)com or visit the website: http://www.caperace.com
Media inquiries: Jennifer Hobson
Jennifer(at)xolaconsutling(dot)com
###