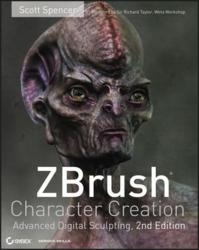 Hoboken, NJ (Vocus/PRWEB) March 01, 2011
The new version of ZBrush, ZBrush 4, has its fair share of innovative features and advantages and Sybex has teamed with Scott Spencer, Eric Keller & Ryan Kingslien to craft three distinct books, for users at any level.
In ZBrush Character Creation: Advanced Digital Sculpting, 2nd Edition Scott Spencer covers major software changes in ZBrush 4, including high-powered tools for crafting detailed characters through texturing, chiseling, and costuming, and updates the techniques he garnered creating characters for film and games, such as Iron Man and Harry Potter.
In ZBrush Character Creation, Spencer, a consultant to Pixologic, caters to character artists of all levels who have an interest in creating exciting and realistic organic models with ZBrush.
"The new version of ZBrush has blown the doors open on a variety of new modeling tools and techniques as well as an entirely new way to texture paint." said Spencer. "In ZBrush Character Creation, 2nd Edition I have added entirely new tutorials and videos to fully explore this plethora of new features and tools. Many of the techniques I share in the book are the exact same processes I use every day as a character designer working at Weta Workshop."
The second title to market, Introducing ZBrush 4, is perfect for beginners and/or those with 3D experience but still intimidated by ZBrush's unique toolset. Written by Eric Keller, author of Introducing ZBrush, Mastering Maya 2011, Mastering Maya 2009, and Maya Visual Effects: The Innovator's Guide, the new Introducing ZBrush 4 will help aspiring digital sculptors design remarkably realistic creatures, people, and objects using ZBrush. Want to experiment? Download a free trial version of ZBrush4.
Keller said: "Introducing ZBrush 4 has been completely revised to include detailed instructions on how to use all the new features included in the new version. I worked closely with the developers at Pixologic to ensure that the exercises in the book will get you complete information on the innovative tools in ZBrush 4. I've based the new lessons on my experiences teaching ZBrush to artists in Hollywood and I'm certain that the new edition is the perfect resource for introducing you to the amazing world of digital sculpting."
Last but not least, Ryan Kingslien has authored the only project-based book dedicated to using ZBrush to sculpt and model realistic human characters for the unique challenges of today's digital games: ZBrush Studio Projects: Realistic Game Characters. This book is for Professional ZBrush artists, educators, aspiring 3D artists and digital sculptors.
According to PricewaterhouseCoopers, the game sector remains "one of the above-average growth segments of the global entertainment industries through 2011." As video games evolve, the bar moves ever higher for realism and one of the most challenging artistic frontiers is creating realistic human characters. Kingslien, who was the first Product Manager for ZBrush at Pixologic, lends his experience as a consultant for Electronic Arts and ZBrush trainer who runs http://www.zbrushworkshops.com.
Press copies of each of these titles are available. eMail or call Ashley Evens for more information: aevens [at] wiley [dot] com, 201.748.6702.
About Sybex:
Sybex has been a leading publisher for the global Information technology community for nearly 30 years. Known for its high quality publications that are translated into more than 20 languages, Sybex published about 100 new titles a year and has an impressive backlist of over 450 titles in the graphics, digital photography, operating systems, programming, and gaming categories. Sybex, enjoys a very strong presence in the areas of IT and Business certifications and has close relationships with a number of leading technology companies, including Alias, Microsoft, and Juniper. For more information, visit sybex.com. Sybex is an imprint of Wiley.
###