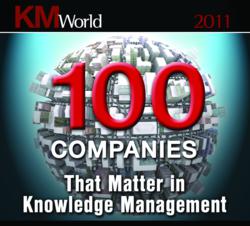 ..our persona-based BPM solutions focus on the way our customers get work done and empower all the people critical to the success of their business processes
Dallas, TX (Vocus/PRWEB) March 01, 2011
Global 360, a leading provider of process and case management solutions, today announced it has been named to KMWorld magazine's list of "100 Companies That Matter in Knowledge Management" for the third consecutive year. Now in its 11th year, the KMWorld 100 recognizes organizations at the forefront of knowledge management innovation, and is compiled through discussions with KM practitioners, theorists, analysts, vendors and their customers and colleagues.
Global 360 has been named to the list five times in the last seven years. More than 1,500 companies are considered annually for this honor.
"Global 360's inclusion on the list is based on the breadth and impact of its innovations to meet specific customer needs while adding true value to its entire chain of constituencies," said Hugh McKellar, Editor-in-Chief, KMWorld.
"We are honored to be recognized once again by KMWorld for ensuring our persona-based BPM solutions focus on the way our customers get work done and empower all the people critical to the success of their business processes," said Deborah Rosen, Senior Vice President and Chief Marketing Officer, Global 360. "Our persona-driven approach has helped companies like Revlon that reduced claims processing time and document costs, Chartis Insurance that decreased loan application and underwriting response time, and the U.S. Department of Homeland Security that reduced costs of responding to information requests."
About KMWorld
The leading information provider serving the Knowledge, Document and Content Management systems market, KMWorld informs more than 45,000 subscribers about the components and processes - and subsequent success stories – that together offer solutions for improving business performance. KMWorld is a publishing unit of Information Today, Inc.
About Global 360
With more than 2,000 customers in 70 countries, Global 360, Inc. is a leading provider of process and case management solutions. Global 360 is headquartered in Texas with operations in North America, Europe, Asia Pacific and South Africa. For more information, call 1-214-520-1660 or visit the company web site at http://www.Global360.com.
# # #