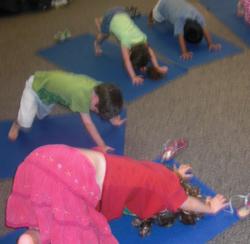 "Because children are more accepting and able to let go of outside stress and be present in the moment, yoga may actually provide more benefits for children than it does for adults."
Washington, D.C (Vocus/PRWEB) March 02, 2011
Power Tots, Inc. is a Maryland-based company that offers yoga (as well as gymnastics and dance programs) for children 18 months to 12 years of age at preschools, daycare facilities, elementary schools, parks and recreation departments, or any venue where children are gathered throughout Maryland, D.C., and Northern Virginia. There are tremendous benefits that children can gain from yoga programs. Marsha Wenig, Creator of YogaKids, says, "Physically, it enhances their flexibility, strength, coordination, and body awareness. In addition, their concentration and sense of calmness and relaxation improves. Doing yoga, children exercise, play, connect more deeply with the inner self, and develop an intimate relationship with the natural world that surrounds them. Yoga brings that marvelous inner light that all children have to the surface."
Kelly Sorenson, director and founder of Power Tots, Inc.'s yoga program, says, "Yoga provides the same physical and mental outlet for children as it does for adults. With the outside stressful situations in our society, we are seeing more and more that children show physical and mental signs of stress. Because children are more accepting and able to let go of outside stress and be present in the moment, yoga may actually provide more benefits for children than it does for adults."
It's no secret that the fast pace of today's world can increase the average adult's level of stress, and it's also no surprise that it can have a negative effect on a child's mood as well. In an article on YogaJournal.com, Wenig states, "Our children live in a hurry-up world of busy parents, school pressures, incessant lessons, video games, malls, and competitive sports. The bustling pace of our children's lives can have a profound effect on their innate joy—and usually not for the better. I have found that yoga can help counter these pressures. When children learn techniques for self-health, relaxation, and inner fulfillment, they can navigate life's challenges with a little more ease."
University of Michigan pediatrician Dolores Mendelow says yoga, if done properly, is a suitable alternative to team sports for removing stress, getting sedentary children socializing, exercising, and building discipline. "It requires practice, patience and accepting of self-limitations," she says. In addition to this, a preliminary study of pediatric health benefits of yoga, published in 2008, found motor skills and concentration improvements, on top of better posture and breathing.
YogaFit certified yoga instructor Ann Buerger says, "Yoga for children has so many benefits, since the earlier you start, the earlier you begin getting stronger and challenging your muscles in different ways that help you when playing sports or doing other kids' activities." She adds, "Kids are naturally more flexible than adults, so yoga for them comes more easily and they can get in and out of poses without much strain." She concurs that the physical benefits are equal to the emotional and mental benefits. "(Children) can really learn how to be more calm and relaxed and learn that breathing can help settle them down if they're upset."
If you are interested in a yoga program for your child's school, please visit the Power Tots website for additional information.
Sources: YogaJournal.com, LATimes.com, Livestrong.com
# # #