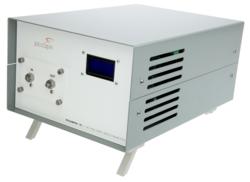 Vernon Hills, IL (Vocus/PRWEB) March 01, 2011
Researchers and educators now have access to a revolutionary benchtop NMR spectrometer. The 45-MHz picoSpin™ spectrometer resolves proton chemical shifts with a resolution of 100 parts per billion using a very small sample volume of less than 20 microliters. Liquid samples are simply injected into an internal capillary via front-panel fittings.
"We have engineered an innovative and disruptive technology that changes the NMR spectroscopy landscape. With its low price, compact footprint and true spectroscopic capability, the picoSpin-45 spectrometer enables applications that could not be considered in the past," said John Price, Ph.D., president and chief scientist of picoSpin, LLC.
The picoSpin-45 NMR Spectrometer is a finalist in the Science & Medical – Diagnostic Aids category, one of twelve categories honored by the Edison Awards.
The complete liquid-phase proton NMR system includes permanent magnet, transmitter, receiver, data acquisition, programmable pulse sequencer, Ethernet interfaces and intuitive web-based control software. To view this innovation, go to ColeParmer.com/8332 or, for more information, call 800-323-4340.
Cole-Parmer has been a leading global source of laboratory and industrial fluid handling products, instrumentation, equipment, and supplies since 1955. Our product lines, including popular brand names such as Masterflex®, Oakton®, and more, are sold through company-owned customer channel outlets and a strong network of international dealers. We also feature an ISO-17025-accredited metrology lab for instrument calibration and repair. Cole-Parmer responds with excellence to customer needs, and offers application expertise and technical support. For more information, contact Cole-Parmer, 625 East Bunker Court, Vernon Hills, IL 60061. In the U.S., call 800-323-4340. International customers, call 847-549-7600. Visit us at http://www.coleparmer.com.
# # #