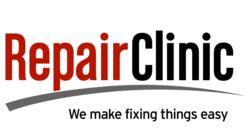 We appreciate the exposure to the general public that our affiliates provide through their websites and blogs
Canton, MI (Vocus/PRWEB) March 23, 2011
With the new in-house affiliate program, RepairClinic.com®, online appliance and outdoor power equipment parts retailer, offers affiliate members a 14 percent commission on items purchased made through referrals from their sites.
The RepairClinic Affiliate Program is a revenue sharing program where an affiliate drives traffic to our website in exchange for referral commissions. When a visitor to the affiliate site clicks through an approved link to our site and completes a purchase within 30 days, the affiliate earns a commission on every item that was purchased.
RepairClinic accepts affiliates with websites or blogs that provide content related to appliances, vacuum cleaners, lawn mowers, and other outdoor power equipment. The Affiliate Program is free to join and helps members make extra money by promoting RepairClinic parts and products.
"We appreciate the exposure to the general public that our affiliates provide through their websites and blogs," said Chris Hall, president of RepairClinic.com. "So we are happy to provide those affiliates with a 14 percent commission on referred sales."
Approved affiliates can log in to their own Affiliate Management Account where they have access to banner ads, a RepairClinic.com search box, and tracking links that can be added to their own website or blog. The Affiliate Management Account includes detailed reporting for URL performance, transaction detail, return detail, and monthly statements.
Prospective websites or bloggers interested in becoming a RepairClinic.com affiliate can view more details about the Affiliate Program at http://www.repairclinic.com/Affiliate/Affiliate-Information.
About RepairClinic.com
RepairClinic.com® is an online retailer of replacement parts for household appliances, vacuum cleaners, lawn mowers, and outdoor power equipment. RepairClinic has an extensive inventory of more than one million parts for over 100 different brands and has an incomparable return policy allowing any part to be returned within 365 days for money back. RepairClinic assists more than 75,000 customers each month with free repair help including videos, diagrams, and customized repair diagnosis. RepairClinic operates an 86,000 sq. ft facility in Canton, MI, that employs over 100 employees. For more information, please visit http://www.RepairClinic.com.
# # #