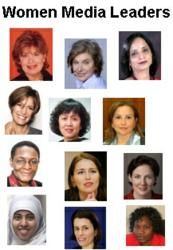 Washington, DC (Vocus/PRWEB) March 01, 2011
Powerful women media executives overseeing some of the world's biggest news organizations are gathering in Washington, D.C., March 22-25, 2011, to examine the status of women in the media.
By the time they leave the International Conference of Women Media Leaders, nearly 80 delegates will have signed off on a plan to level the playing field in newsrooms around the globe. The International Women's Media Foundation and George Washington University's Global Media Institute are partnering on the conference.
A long-awaited "Global Report on Women in the News Media" will reveal vast gender differences in many countries, where females are routinely sidelined in news operations. The International Women's Media Foundation commissioned the report, which analyzed research data from 500 broadcast and print companies in nearly 60 countries.
The global report will be unveiled on Wednesday, March 23, at GW's Jack Morton Auditorium at 9 a.m. IWMF board co-chair Barbara Cochran will welcome the delegates. IWMF Board member Judy Woodruff of PBS NewsHour will officially open the conference, and Katty Kay of BBC World News America will provide an overview of the report with a panel. Working reporters are welcome to attend and cover the event.
Then at 9:30 a.m. conference delegates will hear from exemplary media companies in their regions: Canada's CBC General Manager and Editor-in-Chief Jennifer McGuire, Uganda's The New Vision Editor-In-Chief Barbara Kaija, Peru's Silvia Miró Quesada of Empresa Editora El Commercio S.A and Germany's Taz, Die Tageszeitung Managing Editor Ines Pohl and Norway's Verdens Gang Managing Editor Kjersti Sortland.
After meeting in closed-door sessions, delegates will discuss global objectives and regional targets for improving the status of women on Friday, March 25, and during an open session from 9:30 a.m. to 12 p.m. at the GW Jack Morton Auditorium. The session – open to working press for coverage – will conclude with women executives endorsing a "plan of action" for change and voting on a "Universal Declaration of Principles."
Sponsors of the international conference include The Howard G. Buffett Foundation, The John S. and James L. Knight Foundation, Bloomberg and the McCormick Foundation. The global report was funded by The Ford Foundation, The Laureen Arbus Foundation, UNESCO Communication Development Division, Carolan K. Stiles and the McClatchy Company Foundation.
CONFIRMED DELEGATES:
From the United States:
-- Adriana Arai, Bloomberg News managing editor for Latin America
-- Rebecca Blumenstein, Wall Street Journal managing editor
-- Colleen Brown, president and CEO of Fisher Communications
-- Shirley Carswell, Washington Post deputy managing editor
-- Susan Glasser Foreign Policy Magazine editor-in-chief
-- Patricia S. Harrison, Corporation for Public Broadcasting president and CEO
-- Kim Kingsley, Politico executive vice president and COO
-- Cindi Leive, Glamour Magazine editor-in-chief.
-- Libby Liu, Radio Free Asia president
-- Patsy Loris, Univision senior executive producer for news
-- Beth Polish, Hearst Interactive Media senior vice president for corporate innovation
-- Vivian Schiller, National Public Radio president and CEO
-- Debra Adams Simmons, Cleveland Plain Dealer editor
-- Carolan Stiles, Blue Creek Foundation founder
-- Alexandra Wallace, NBC vice president for news
-- Jan Winburn, CNN.com enterprise editor
-- Betty Wong, Reuters News global managing editor.
From the Americas:
-- Argentina's Ana D'Onofrio, La Nacion managing editor
-- Canada's Jennifer McGuire, CBC News general manager and editor
-- Costa Rica's Noguera Yanancy, La Nacion director
-- Chile's María Elena Wood, TVN director of contents and programming
-- Ecuador's Gabriela Vivanco, La Hora Media Group editorial vice president
-- Mexico's Rossana Fuentes-Berain, Grupo Editorial Expansión editorial vice president
-- Nicaragua's Cristiana Chamorro Barrios, La Prensa columnist and editorial board member
-- Peru's Silvia Miro Quesada, Editorial Consulting Council of Grupo El Comercio.
From Asia and Oceania:
-- Afghanistan's Farida Nekzad, Wakht News Agency director and editor-in-chief
-- Australia's Louise Evans, The Australian's managing director
-- Bangladesh's Nasima Khan Monty, executive editor and director of The Daily Amader Shomoy, The Daily Amader Orthoneeti and Television News Agency (TVNA)
-- Burma's Nyein Nein, 7-Day News executive editor
-- China's Chen Juhong, qq.com editor-in-chief
-- China's Hu Shuli, Caixin Media editor-in-chief
-- India's Bachi Karkaria, The Times of India consultant editor
-- India's Nirmala Lakshman, The Hindu editor and director
-- Kazakstan's Olga Kraus Novyi Vestnik editor-in-chief
-- Malaysia's Jacqueline Ann Surin, The Nut Graph editor
-- Malaysia's June H.L. Wong, Star Publications managing editor
-- Nepal's Maina Dhital, Kantipur Daily senior sub-editor
-- Pakistan's Rehana Hakim, Newsline editor-in-chief
-- Pakistan's Moneeza Hashmi, HUM TV general manager for internal relations
-- Pakistan's Maleeha Lodhi, GEO Network special advisor for international affairs
-- The Philippines' Amy Pamintuan, The Philippine Star executive editor.
From Eastern Europe:
-- Bulgaria's Teodora Peeva, Sega editor-in-chief
-- Kosovo's Margarita Kadriu, Kosovo's Sot editor-in-chief
-- Romania's Cosmina Noaghea, Publimedia publishing director
-- Romania's Christina Simion, Edipresse AS managing director
-- Ukraine's Ilona Fanta, Zhovta Gazeta Publishing House chief editor
-- Ukraine's Kateryna Ivanova, Rivne Agency vice editor
From Nordic Europe:
-- Denmark'sInes Pohl, Die Tageszeitung editor-in-chief
-- Iceland's Steinunn Stefansdottir, Frettabladid deputy editor
-- Norway's Kjersti Sortland, Verdens Gang news department director.
From Western Europe:
-- Austria's Alexandra Foederl-Schmid, Der Standard editor-in-chief
-- Cyprus' Maria Myles, Cyprus News Agency associate editor-in-chief
-- France's Beatrice Garrette, SIPA Press general director
-- France's Christine Ockrent, Radio France International deputy chief executive
-- Germany's Stephanie Czerny, Hubert Burda Media managing director
-- Netherlands' Margo Smit, VVOJ (Dutch-Flemish association of investigative journalists) director
-- Spain's Lola Alvarez-Morales, Agencia Efe director general
-- Switzerland's Romaine Jean, Swiss Radio and TV co-editor-in-chief of news
From Sub-Saharan Africa:
-- Ghana's Sarah Akrofi-Quarcoo, Ghana Broadcasting Corporation chief radio newsroom editor
-- Kenya's Catherine Gicheru, The Star managing editor
-- Kenya's Julie Gichuru, Royal Media Services TV host and group business digital manager
-- Kenya's Faridah Karoney, Citizen TV and Radio (Royal Media Group, Kenya) group editorial director
-- Namibia's Gwen Lister, The Namibian founder
-- Senegal's Khady Cisse, Senegalese National TV IFJ vice president and news editor
-- South Africa's Amina Frense, SABC broadcast journalist and editor
-- South Africa's Ferial Haffajee, City Press editor-in-chief
-- South Africa's Benita Levin, East Coast Radio/Prime Media news editor
-- Uganda's Barbara Kaija, New Vision Printing and Publishing Company editor-in-chief
-- Zambia's Miriam Zimba, Times of Zambia managing editor
From the Middle East and North Africa:
-- Israel's Ilana Dayan, Channel 2 Israeli Television anchor
-- Israel's Eetta Prince Gibson, Jerusalem Report editor-in-chief
-- Lebanon's Mariam Al-Bassam, Al-Jadeed TV, New TV news manager
-- Palestine's Maysoun Odeh Gangat, Radio NISAA FM director
-- Yemen's Nadia Al-Sakkaf, Yemen Times publisher and editor
MEDIA CONTACT:
IWMF's Jane Podesta – (202) 567-2602, jpodesta(at)iwmf(dot)org
For detailed information about the delegates and a schedule of conference events, check out the IWMF website here.
http://iwmf.org/pioneering-change/international-conference.aspx
Working press interested in covering the event can register here.
http://bit.ly/ePCHPi
###