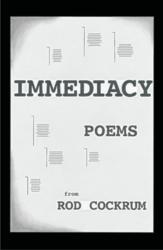 "Good pieces of art can be expressions of, and contain essential characteristics of our passions and emotions," Cockrum says. "Consequently, it has the power to bring insight and value to our lives."
Peterson, Minn. (Vocus/PRWEB) March 02, 2011
A new book maintains that the power of the written word and free expression are crucial to sustaining a quality of life.
In his debut book Immediacy, author Rod Cockrum brings readers an interesting and personal collection of poetry that covers various experiences and emotions. Ranging from internal interactions to expressive responses and reactions to personal experiences, the book aims to engage readers with relatable, descriptive verses.
"Good pieces of art can be expressions of, and contain essential characteristics of our passions and emotions," Cockrum says. "Consequently, it has the power to bring insight and value to our lives."
Maintaining that people need to embrace a diverse group of interests to ensure quality in life and create a balance between the intellectual and physical, Immediacy uses expression to aid in the clarification of the human mind. Aiming to provide readers an outlet for better understanding themselves, the book encourages people to be more attentive to the every day interactions that affect us all.
"It is our insignificant experiences that are sometimes the most valuable," says Cockrum.
About the author
Rod Cockrum is a poet and painter residing in Peterson, Minn. A creative personality and former actor, Cockrum has always had a strong interest in visual arts and the written word. Cockrum is a graduate of Minnesota State University, Mankato. This is his first book.
EDITORS: For review copies or interview requests, contact:
Jessica Kiefer
Tel: 317.602.7137
Fax: 317.536.3775
Email: jkiefer(at)bohlsenpr(dot)com
(When requesting a review copy, please provide a street address.)
###