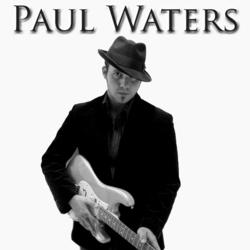 Los Angeles, CA (Vocus/PRWEB) March 01, 2011
With the release of his self-titled solo album, singer/songwriter/actor/producer Paul Waters takes his award-winning songwriting skills, acoustic blues-tinged rock to the next level. While his warm, emotional vocal, deeply felt lyrics and raw instrumentation bring to mind artists such as Chris Isaak, David Gray and Neil Young – Paul Waters style is uniquely his own. With his latest self-titled release, "Paul Waters" (Lindemark Music Collection), he will transport listeners into his deeply introspective, musical world.
Already top-of-mind with online music fans, Paul Waters' landed the coveted #1 position on the indie/unsigned artist MySpace.com Rock/Folk Chart and his music has garnered over1 million plays on the popular social networking site. In addition, Waters has received numerous awards for songwriting including "Best Pop/Rock Song" from the Paramount and his song, "Two Shades of Gray" was voted "Best Pop/Rock Song" on http://www.listenersstation.com. He has also played live on a multitude of radio shows including, "Hungover Radio" and "The Kerri Kasem Show."
Raised in the small town of Iron Mountain, Michigan, Waters has recorded and performed in Europe and virtually everywhere in the continental United States and Hawaii. He has also worked alongside the legendary Robb Brothers -- owners of the landmark Cherokee Studios in Hollywood where the likes of David Bowie, Michael Jackson and Aerosmith among many others have recorded. Seizing any opportunity to capture fans' attention, Waters' struggle against Obsessive Compulsive Disorder (OCD) was recently documented on the popular A&E series "Obsessed."
"After tens of thousands of miles around the world, from the mountains of Hawaii, to the Alps of Switzerland, this music is finally available for purchase via the Internet," says Waters. "It has been a beautiful struggle to say the least. Along the way I have endured some amazing moments, and some I would rather forget, but, it's what made these songs what they are, and I wouldn't have changed a thing about them."
Recorded and mixed in various locations around the globe including Switzerland, Hawaii and California, "Paul Waters" features such memorable tracks as "Born to Fly," "Inside" and "Rain on the Window." Water is currently based in Hollywood, California.
For more information, please visit: http://paulwatersmusic.com/fr_home.cfm
To preview the album, please click here.
BFM Digital, Inc.
BFM Digital is a global digital music company committed to serving the independent music community and delivering quality music, spoken word and video content to leading online retailers worldwide. Representing a diverse catalog of indie labels, artists and publishers, BFM distributes to all of the major music services including iTunes, Amazon, Rhapsody, eMusic, Napster, Walmart, Nokia and many more. With an unparalleled commitment to personalized service, BFM works closely with their content providers from around the world to ensure maximum exposure of their catalog by customizing marketing efforts and building strong relationships with BFM's digital store partners.
###