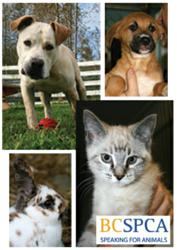 "We'd like to do our part to help create awareness of ongoing animal welfare issues."
Surrey, BC (Vocus/PRWEB) March 03, 2011
Precision Disc Manufacturing Corp., a CD DVD manufacturing company located in Surrey, British Columbia (Canada) is doing their best to raise awareness and help animals in need by making a donation to their provincial SPCA (Society for the Prevention of Cruelty to Animals) on behalf of every client that takes advantage of their March "VIP Special Offer" in 2011.
"The incident that occurred in Whistler, B.C. certainly brought much needed attention to the topic of animal welfare," states Mike Arnold, Precision Disc's General Manager, "but when the spotlight of the media turns away to another story animal welfare issues do not suddenly stop. Due to this we'd like to do our part to help create awareness of ongoing animal welfare issues as well as donating to the BC SPCA to fund their crucial work."
During the month of March 2011, for every client who takes advantage of the company's "VIP Special Offer" Precision Disc will provide a 5% order discount as well as making a monetary donation to the BC SPCA on their client's behalf.
"While our VIP Special Offers usually provide product discounts on CD DVD manufacturing or value-added incentives, we also pick worthy causes to support and the response from our client base is always a very positive one."
All donated funds help to pay for the care and protection of nearly 37,000 domestic, farm and wild animals the SPCA cares for each year in British Columbia. This includes funding of the BC SPCA's cruelty investigations department which conducts nearly 6,000 cruelty investigations a year and is reliant on donations from the public to continue its work.
"The amount of each donation is tied to the dollar value of each order we receive," Arnold continues. "So the larger the order the more we donate on behalf of the client. We're very excited about the possibility of providing a substantial donation on behalf of our clients and, all going well, we'd certainly be interested in running this same offer annually."
Precision Disc Manuafcturing Corp. provides factory-direct CD DVD manufacturing services with eco-friendly print and packaging solutions. From their offices and replication plant in Surrey, British Columbia they ship daily to clients throughout Canada and the United States.
# # #