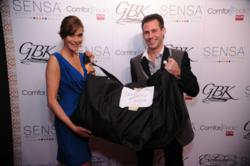 Los Angeles, CA (Vocus/PRWEB) March 01, 2011
GBK (gbkproductions.com) - the luxury lifestyle gift lounge and special events company, honored the 2011 Academy Awards Nominees and Presenters with its Annual Gift Lounge on February 25th and 26th at W Hollywood. GBK, the recipient of multiple BizBash's Award for "Best Gift Bag," offered its exclusive list of invited celebrities, VIPs, and Media the opportunity to enjoy a luxurious environment with gifts, refreshments, and charity fundraising.
The 2011 Academy Award Nominees and Presenters received goods and services ranging from exotic travel destinations to luxury goods and products, and were pampered with a variety of services. Some of the honored guests included: Teri Hatcher, Jane Lynch, Constantine Maroulis, Jacki Weaver, Cloris Leachman, Jaime Pressly, Malin Akerman, Terell Owens, Kelly Rutherford and Boris Kodjoe. A selection of incredible charities were a part of this year's event, and with the help of the attending celebrities and GBK's efforts – over $40,000 in cash and $90,000 in products and services was raised. Many of the honored guests participated in the Oscar-related GBK ReTweet-A-Thon where they were asked to record a video message to engage their followers in winning gifts from the lounge. Celebrity guests participating in the video message Twitter contest had $100 donated in their name. The ReTweet-A-Thon is projected to raise $2,000 or more by week's end.
This year's Oscar Gift Lounge event charities included: City of Hope, a leading research and treatment center for cancer, diabetes and other life-threatening diseases; American Red Cross, a humanitarian organization lead by volunteers and guided by its Congressional Charter and the Fundamental Principles of the International Red Cross Movement, provides relief to victims of disasters and helps people prevent, prepare for and respond to emergencies; and A New Way of Life Reentry Project, an organization committed to breaking the cycle of incarceration and addiction for women and girls so they can live happy lives.
An array of unique gifts filled the gift lounge including: Zamani Retreat Kempinski, offering a 7 night all inclusive Health Package in Africa's Prime Holistic Health Retreat worth $10,000; Ematic, providing their Ematic 4GB Video MP3 Player that plays music and videos, takes photos, shoots video and more; Caribbean Living Magazine, providing guests with a 1 week stay in the Caribbean; SENSA® Weight-Loss System, one of the event's honored Presenting Sponsors, providing their SENSA® Quench – a low calorie, sugar-free powerful nutrient blend of antioxidants, vitamins, and green tea that give you all the energy you need while quenching your thirst; and from Presenting Sponsor ComforPedic by Simmons - ComforPedic Mystic mattress and ComforPedic Free Spirit pillow, part of the ComforPedic by Simmons™ collection featuring NXG® Advanced Memory Foam which offers consistent contouring, heat dissipation and quick recovery for ultimate comfort.
On the beauty front, celebrity-favorite RevitaLash was on site offering their well known eyelash conditioner that lengthens and thickens eye lashes, as well as their new hair product called Hair by RevitaLash, and RevitaLash Mascara; all natural "rejuvenate" daily moisturizer and "soothe" a spot treatment for minor skin irritations from Diane Lai; TEI Spa, offering a selection of their facial spa devices developed for professional estheticians and for home use; Consultation and full styling services by Angus Mitchell, owner of the Angus Mitchell Salon in Beverly Hills and co-owner of The Paul Mitchell Hair Care systems; beauty products from Ziba Beauty, the global leader in brow and body artistry; runway nail colors and innovative manicure and pedicure products as well as on site manicures from Julep; skincare and cosmetics from Arbonne, a premium brand with a Swiss heritage featuring health and wellness products that are healthy, botanically based and inspired by nature; glitter tattoo kits and certificates for a 2 hour Glitter Tattoo Party by Glimmer Body Art; DECLÉOR Paris, the Cosmetic Aromatherapy Expert for over 35 years, offering their Aroma White C+ Extreme Brightening Essence for women and Men Skincare Smooth Shave Foam; Cadillac Black for men from Cadillac Fragrance for Men – Beauty Contact, Inc.; NYR Organic, a direct sales branch of Neal's Yard Remedies, providing natural and organic face care, body care and cosmetics for men and women; basicare, high quality top-to-toe personal care products such as Manicure, Pedicure, Bath, Hair, and Travel Gift accessory.
Fashion and Jewelry made their mark on this luxury event, including beautiful gifts from: William Rast Eyewear, featuring signature design elements from the "new America" denim culture brand; European inspired, high quality children's shoes from Umi Children's Shoes; water-resistant, colorful and easy to wear watches from RumbaTime; PureToes, the world's leading fashion forward Yoga and Pilates footcovers that provide non-slip traction and anti-micobial protection; a unique bathing suit brand, PITAHAYA SWIMSUITS, that features the MOLA appliqué hand made by Indeginous Colombian Ole-Tule(kuna); luxury hand-crafted purses from Felicity, LLC; premium diamond watches from Just Bling Watches; diamonds and hand-made keepsake bracelets and necklaces from Diamonds by Donna; 020608 tears of bleu/black line, a lifestyle brand with authentic denim being the core for men, women and kids; a selection of clothing from CAbi, Carol Anderson by invitation, Spring 2011 collection; Peace Cord™, a bracelet hand-woven by women in Afghanistan from parachute cord and military buttons.
Other fantastic sponsors included Kefty Home Gym, on site offering their customized new portable fitness tool with over 300 exercises; Bardes Interiors – a two hour in-home design consultation; Maze Home Store, a comprehensive source for home design offering a Maggie Wilson Leather Bracelet keyring and $100 gift card; Exclusive Sedan Service, delivered celebrities in style and offered gift certificates towards chauffeured luxury ground transportation; Yakult – gift certificates for free home delivery of Yakult, the world's premier probiotic company; Far North Wellness, providing their far infrared sauna; Nano Magnetics, a developer of innovative products that reignite our passion for play; Naked, a book by Dr. Leslie Masters creator of Masters Clinic; MegaFood, providing a collection of MegaFood premium whole food supplements and a SIGG water bottle; an exclusive beauty certificate from Beverly Hills' premier facility for aesthetic surgery and skin therapy, Lasky Clinic; Madame Paulette Professional Stain Removal Kit; and GlyMed Plus® Advanced Aesthetics.
Guests enjoyed sweets and treats from the lounge's gourmet sponsors, including: Galloping Cows Fine Food offering a gift box of 6 assorted pepper jellies handcrafted in Nova Scotia; Bota Box, providing their original environmentally friendly premium 3L wine box; handmade dark chocolate fudge truffles from Cocopotamus Chocolate; Cookies for a Koz, freshly baked gourmet cookies with a percentage of all sales that go to Starlight Foundation; Baker Street Bakery, the leading Canadian manufacturer of gourmet desserts, featuring their Baker Street 3.5" Apple Pie; Hansen Cakes showcasing their masterpiece Oscars themed cake; and VeeV Açaí Spirit from Veev Spirts, VeeV is The World's First Açaí Spirit™ and is simply a better way to drink™.
For more information about American Red Cross, go to http://www.redcrossofsantamonica.org
For more information about City of Hope, go to http://www.cityofhope.org
For more information about A New Way of Life Reentry Project, go to http://www.anewwayoflife.org
GBK, formerly GBK Productions, is a luxury lifestyle gifting and special events company, specializing in entertainment marketing integration. Formed in 2000 by Gavin Keilly, the company's Founder and CEO, GBK consists of five divisions: GBK Celebrity Gifting, GBK Special Events, GBK Weddings, GBK Charitable Consulting and GBK Marketing/Public Relations. Widely known in the entertainment industry for bringing that little extra something into the Gifting Lounge environment, GBK offers its clients a full range of marketing services. For more information on Gavin B. Keilly (CEO), Carla Domen (VP) or GBK, please go to gbkproductions.com.
###