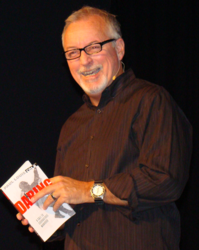 Daring men dare to make a difference. It doesn't have to be eloquent or clever or noticed, it's simply truth held in the heart, and acted on. This is what daring men do, period.
Dallas, TX (Vocus/PRWEB) March 01, 2011
Since pre-release copies were mailed just weeks ago, DARING: A Call to Courageous Manhood by Paul Louis Cole has elicited rare praise from Christian leaders as diverse as Jack Hayford and Jonathan Falwell.
DARING sets the tone for a new wave of masculinity by defining what it is to be a man of courage, endurance and resolve. Cole uses his unique, creative voice to cut through cultural clutter and speak to the issues that lay in the heart of every man.
No newcomer to the men's movement, Cole co-founded the globally-expanding Christian Men's Network with his late father, Edwin Louis Cole. The elder Cole was known as the "father of the men's movement."
"We must be these men—men who will confront the enemy, face the firestorms of tribulation, be willing to sacrifice for victory, stand against evil, fight for the next generation, and hold nothing back," Cole writes in DARING.
According to Pat Robertson, "Paul Louis Cole has laid bare the secrets every man desires to know, how to be a daring and courageous man." Jonathan Falwell states, "We are desperate today for Godly men to lead in our churches, our workplace and most certainly, our homes." Jack Hayford encourages pastors to get the book. He states, "Get a copy for the men of your church, then lead them through it to ignite the renewed flame of practical, purposeful, manly living."
Leading pastors are eager for their men to read DARING, such as Dino Rizzo from Louisiana who said, "Paul has a huge heart to build strong local churches by building strong men!" Pastor Bob Roberts, Jr, from Texas says DARING is, "clear, simple, practical, that any man in my church can get their head and hearts around and then be able to act."
Bestselling author Leonard Sweet said DARING "masterfully bares the yearning heart of God for all sons of Adam, and electrifies the reader's heart to beat as loudly and strongly as the lion's heart of the tribe of Judah." Another bestselling author, political activist and pastor, Jim Garlow, from San Diego wrote in the foreword for DARING, "To embrace the words of DARING is to be revolutionized!"
Cole is one of the world's leading experts on men's issues, character maturity and personal life expansion. As co-founder and current president of the Christian Men's Network, the global men's movement active in 138 nations connecting over 160,000 leaders, Cole has also positioned CMN as a key leader in building a network of mentors who are training young men in character-building principles across the U.S. and around the world. A seasoned pastor, as well as entrepreneur, marketing consultant, film and television producer, Cole speaks to tens of thousands of men annually.
DARING: A Call to Courageous Manhood will be released March 28, 2011
For information on Christian Men's Network go to http://www.CMNworld.com
For media interviews contact: Lynn Scarborough, 469 951-7051 Lynn4Media(at)gmail(dot)com
Paul Cole is carrying one of the most important messages of our time, helping men discover their manhood and masculinity, something men everywhere are in desperate need of, in an increasingly feminized world. Any help we can give fathers and men generally to do life well together is vital, and by continuing the legacy of Dr. Ed Cole, Paul's father, Paul is giving the best of this help today.
Dr. Phil Pringle
Founder, Christian City Churches, Sydney
In Daring: A Call to Courageous Manhood, Paul Cole further expounds on the teachings of his late father, Dr. Ed Cole on what it means to maximize your manhood. He uses examples and quotations within this book that will awaken all men to rise up and take on the baton of leadership in our families and societies once again! Be prepared for some revelations in this book that will challenge, inspire and change your heart toward becoming the man that God intends us to be!
Kong Hee
City Harvest Church, Singapore
My brother, Paul, has written a masterpiece to challenge you to awake from complacency, defy your fears, and change your life. Reading DARING, you'll unearth the courage to live big for God and make a difference in our world!
Dale C. Bronner
Author & Pastor, Atlanta
###