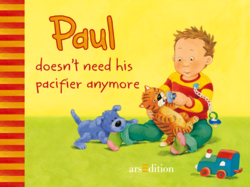 This is THE App for young parents who don't know what to do about the pacifier.
Offenbach am Main, Germany (Vocus/PRWEB) March 03, 2011
The popular picture book "Paul doesn't need his pacifier anymore" ("Paul braucht keinen Schnuller mehr") of the famous German "Paul"-series (publisher: arsEdition) has now been applied to the Apple iPad. Small animations and interactive sound effects tell the story of Paul, who still carries his pacifier around wherever he goes. An empathetic narrator's voice draws the small readers into his family life. Text paragraphs to be switched on and off strengthen first reading ambitions.
"Paul takes the pacifier out of his mouth. Pretty sticky, the old thing. And a bit worn out, too. Paul's no longer a baby, that's for sure…" Paul is a big boy already – but his pacifier is to stay with him, no matter what! In the end he realizes pacifiers are really only for babies – and his mummy is thrilled as her eldest finally gives up his baby toy.
The stories of Paul are genuine due to their naturalistic touch and insight into an everyday family life. Children can identify easily with the character and anticipate basic situations of their own experiences. Minor issues and obstacles that come with growing up are being tackled in a relaxed way and solutions are being inspired.
Playful navigation through the whole App motivates children to use the book independently and challenges their intuition. A jigsaw puzzle completes the App and provides additional entertainment. For children from 24 months.
"Paul doesn't need his pacifier anymore" is the perfect App for all little ones who want to grow up really quickly!
zuuka! GmbH
zuuka! has been acting as strong and reliable partner of publishing houses for many years and brought various books and characters to life by using its global audio network. zuuka! offers full-service in-house production of audio books, soundscapes, musicals, film scores and voice-over recordings in more than 40 languages. zuuka! is a leader in consulting, design and programming for the iPad with a strong focus on the children's sector.
Susanne and Dirk Busshart, the founders of zuuka! are married and have two kids: Simon (10) and Jacob (8).
actionboox by zuuka!
# # #