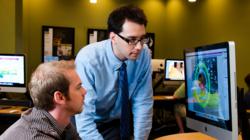 Will Goldstone of Unity Technologies noted that the Rasmussen College proposal demonstrated "excellent understanding of course requirements, student needs, and development process," as well as "an existing understanding of industry needs."
Minneapolis, Minn. (Vocus/PRWEB) March 03, 2011
After being chosen as one of only 20 schools to advance to a second round of competition, Rasmussen College has been selected as one of three grand-prize winners of the Unity Mobile Generation Education Giveaway, a global contest designed to encourage educators to develop innovative course curricula for game programming and design for mobile and tablet PC devices. With this honor, the higher education provider will receive 20 Android™ smart phones, 20 copies of Unity Pro, and 20 licenses of Unity Android™ Pro.
"We are honored to be named a grand-prize winner of an award that showcases our dedication to developing advanced curriculum for our programs, including the Game and Simulation Programming Bachelor's degree," Rasmussen College School of Technology and Design Director Hap Aziz said. "Our winning proposal combined programming design and theory with practical applications, providing students the hands-on experience that is critical to learning new and challenging programs, as well as becoming qualified professionals within their field."
Rasmussen College has established itself as an industry leader in online and on-campus education and offers a Bachelor's in Game and Simulation Programming degree, or Game Design Degree, along with several other technology and multimedia design programs. Faculty members Thomas Long and William Sattelmeyer submitted the college's winning proposal "Mobile Game Development with Unity 3D," which integrated Unity Pro 3D with opportunities for students to gain hands-on experience developing high-demand simulations that employ built-in mobile device features, such as the compass, GPS, and accelerometer.
The demand for courses and degrees addressing game and mobile design has increased as Android encompasses 27 percent of national smart phone sales and iPhone sales expand with the company's new relationship with Verizon. A course curriculum that is centered on this rapidly evolving industry will give students a strong advantage in the expanding mobile development field.
Nominees submitted an example curriculum using Unity's Android game software and two accompanying video lectures. Rasmussen College was selected to advance to the second round of the competition in November 2010.
Will Goldstone of Unity Technologies, author of the first textbook on Unity 3D, noted that the Rasmussen College proposal demonstrated "excellent understanding of course requirements, student needs, and development process," as well as "an existing understanding of industry needs."
Headquartered in San Francisco and named one of the top five game companies of 2009 by Gamasutra, Unity Technologies has more than 200,000 registered users worldwide using its platform to develop high-quality, interactive 3D content for the Web, mobile, and console. Schools such as Georgia Institute of Technology (Georgia Tech) and Massachusetts Institute of Technology (MIT) have adopted Unity technology into their curricula. For additional information about Unity Technologies, visit unity3d.com.
See the winning universities online at http://blogs.unity3d.com/2011/02/01/unity-mobile-generation-great-education-giveaway-winners-announced/.
For additional information about Rasmussen College and its School of Technology and Design, visit http://www.Rasmussen.edu/degrees/technology-design/.
ABOUT RASMUSSEN COLLEGE
Founded in 1900, Rasmussen College is a premier provider of educational experiences, dedicated to the growth and development of its students, employees, and the communities it serves. Accredited by the Higher Learning Commission, Rasmussen College offers Bachelor's and Associate's degrees in fields with the greatest occupation opportunities to more than 15,000 students both online and through its network of 21 campus locations. By partnering with leading universities, Rasmussen offers opportunities to students beyond the Bachelor's level. The Rasmussen Partner Network gives students the opportunity to earn Master's and Doctoral degrees completely online, at their own convenience, from prominent universities around the country. To learn more about Rasmussen College, please visit Rasmussen.edu.
###