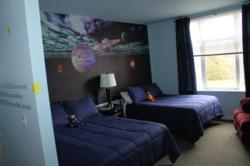 NetBiz is proud to be able to contribute more substantially this year by sponsoring a room for the next six years.
Tualatin, OR (Vocus/PRWEB) March 01, 2011
NetBiz announces the launch of a space themed room to provide an inviting "home away from home" for seriously ill children and their families. The room is located in the East Portland Ronald McDonald House which houses families who have had to travel long distances for treatment at Portland hospitals and sometimes call this room home for months at a time. The ribbon cutting is scheduled for today, March 1, 2011 at 1:00pm.
NetBiz has been supporting the Ronald McDonald Houses in Portland for several years with donations of pop tabs and volunteer hours put in by employees. According to CEO John Anderson, "NetBiz is proud to be able to contribute more substantially this year by sponsoring a room for the next six years." A team has been in place working on plans to make this a very special room, not only comfortable for the family, but visually stimulating and educational for the children. Once all plans were made and materials ordered and received, the team spent several nights and weekends at the Ronald McDonald House painting and decorating the room, preparing it for launch.
Philanthropy is nothing new for NetBiz. CEO John Anderson and President Dana Shaffer have both served on the Board of Directors for Open Arms International, a Portland based charity that has been working with orphans in Kenya. NetBiz has been generously donating to Open Arms since it was founded in November, 2003. Earlier this year, a NetBiz team volunteered time at the Oregon Food Bank and the company is already encouraging employee participation in the annual March of Dimes Walk for Babies team to raise awareness and funds for education and research associated with premature births and birth defects. Giving back to the community will be an important component of the NetBiz philosophy this year and going forward into the future.
NetBiz opened in 2002 with only seven employees and a single internet product. As the internet has expanded and become the lifeline of businesses around the world, NetBiz has expanded its product offerings to include search engine placement, a wide array of social media products, local search optimization, video production and syndication, professional websites and microsites, and a large staff of internet marketing experts to help clients, large and small, better position themselves in this internet world.
For more information about NetBiz products and services, visit the website at http://www.netbiz.com, read and learn about internet marketing from the expert bloggers, or call the corporate offices at 888-847-2226 to get in touch with the PR or account management team.
###