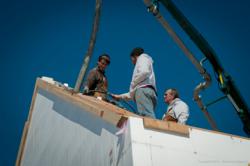 It's a dangerous high-wire act that demands precise coordination and placement of concrete
West Chester, Pennsylvania (Vocus/PRWEB) March 02, 2011
60 Bragg Hill, the Chester County, Pennsylvania Eco-Home completed a significant construction milestone this week. The three story sustainable home designed by Matthew Moger of Moger-Mehrhof Architects and built by Mark Thompson of M.W. Thompson Builders, Inc. was fabricated top-to-bottom with Insulated Concrete Forms. Throughout the fall and winter, the home's structure was hand built using ICFs. Filling and sealing the three towering 12/12 pitch ICF gables with concrete completed the vertical envelope of the green home.
For Mr. Thompson, 60 Bragg Hill is his fifth ICF custom home. "Many ICF contractors don't bother with fabricating concrete gables, instead electing to use traditional stick frame construction. Building ICF gables are time consuming and complex. It's also a dangerous high-wire act that demands precise coordination and placement of concrete from a concrete pump."
The benefits of an ICF envelope to the homeowner are obvious. A complete ICF home will provide excellent thermal mass, a high insulating R-value, and unparalleled longevity, a tenant of sustainability. It's not all concrete though. The finished barn-inspired house will blend in with its natural woodland setting dressed in stone, wood, glass and steel.
One of the hidden benefits of green building with ICFs is the mitigation of construction waste. Integrated planning between the architect, builder, engineer and homeowner provided the project with the exact amount of form forms, rebar and concrete delivered and converted into structural walls just-in-time. This saved time, reduced disturbance and unnecessary waste. In six months the 60 Bragg Hill project filled only one 40 yard dumpster. And that waste was hand sorted off site and recycled.
After three years of planning, 60 Bragg Hill is emerging amongst the trees overlooking the Brandywine river. Despite the harsh winter weather in the Northeast US, the ICF home is on time and on budget. And that's green too.
###