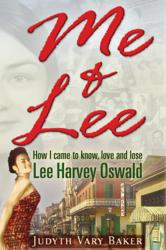 "If I stay," Oswald said, "at least that will be one less bullet aimed at Kennedy."
Walterville, OR (Vocus/PRWEB) March 03, 2011
November 22nd, 1963 is a day Americans can never forget. That was the day when President Kennedy was assassinated by the (supposedly) lone gunman Lee Harvey Oswald. Shortly after, Oswald himself was killed on national television. Oswald's name has been seared into the national consciousness as the ultimate traitor, but in the new memoir Me & Lee: How I Came to Know, Love and Lose Lee Harvey Oswald by his girlfriend Judyth Vary Baker, the hypothetical killer actually went to Dallas to try to prevent the assassination!
According to Baker, Oswald told her early in November that Kennedy would be killed at Dealey Plaza. He knew this because he had been invited to join the assassination team, as well as an abort team that would try to interfere with the shooting. He had infiltrated the former team with hopes of exposing the players, but once events were set in motion he knew the operatives would not hesitate to kill his entire family and anyone else he knew (including Judyth) if he didn't play along.
Vary begged him not to take part, but he insisted that the group would just get another shooter to take his place. "If I stay," he said, "at least that will be one less bullet aimed at Kennedy."
After Oswald's murder, his predictions began to take place, when a number of Vary's cohorts in the undercover biological work she was engaged in mysteriously died or were killed. Afraid for her own life, she abandoned her promising science career and raised a family, keeping quiet about her involvement in the Kennedy situation for many years.
Now, living in an undisclosed European country for her own safety, she recalls her life as a girl who wanted to become a nun, but whose amazing aptitude for science ultimately brought her into a plot to kill Castro with a cancer-causing agent. This in turn led her into a world of virulent anti-Communists, Cuban exiles, mafia figures and the CIA. Me & Lee is a memoir that blows the lid off the Lee Harvey Oswald debate, and even names some of the men responsible for the Kennedy assassination. It is a must-read for anyone interested in American history, politics or even the fates of star-crossed lovers.
Me & Lee is published by TrineDay Books. Please visit their website at http://www.trineday.com for ordering information and to see other titles.
###