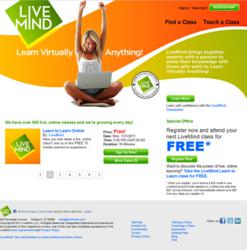 We're thrilled they chose LiveMind to offer their course to all business managers regardless of where they're located
(Vocus/PRWEB) March 02, 2011
According to Econsultancy, 74% of companies say they are putting social media to work to build their business in 2011; 54% are investing in it as a customer service channel. Social media, as a business building tool for brands, is here to stay.
That's why LiveMind.com, the premier open marketplace for live online learning, is offering Social Media Marketing GPS, a first of its kind social media instruction and hands-on training course that, in just 8 weeks, gives companies a social media roadmap and a customized program that generates results.
Social Media Marketing GPS is taught by Toby Bloomberg and Rob Petersen, two leading social marketing practitioners who have helped companies large and small, B2C and B2B, profit and non-profit, achieve success with social media. The course has its genesis in Toby Bloomberg's e-book, Social Media Marketing GPS, which has been downloaded thousands of times all over the world.
"A 'best in class' social media course to us means practical, 'hands-on' training," says Rob Petersen. "Toby is in Atlanta and I'm in Connecticut. Using the LiveMind online learning platform, I can work with the best teaching partner I know. We eliminate geographic boundaries, and companies can participate from their offices with a minimum of disruption to their schedule and no loss in revenue due to travel time and expenses."
"Toby and Rob's Social Media Marketing GPS course provides invaluable learning for anyone interested in harnessing the power of social media networks to benefit their business" commented Dave Lynch, CEO of LiveMind. "We're thrilled they chose LiveMind to offer their course to all business managers regardless of where they're located."
The course consists of 8 class sessions for $480. This includes 4 classes of instruction and 4 "hands-on" workshops where Toby and Rob help with the actual in-market execution for your brand. Each unit of instruction and "hands-on" workshop is $120 and you can pay as you go. If you're committed to putting social media to work for your brand in 2011, sign up now for the entire SMM GPS course and receive a discounted course price of $399 – an $81 savings! The first class begins March 15, at 1 pm EST.
For $399 and 8 hours of your time, you'll receive social media expertise and a customized program built for your business with a strategy, execution plan and measurement analytics generating real results. Plus there is additional content, resources, and worksheets for reference between classes and much more. Visit http://livemind.com/social-media-marketing-gps-–-the-roadmap-for-your-brand-using-social-media.aspx to sign up and review the Social Media Marketing GPS course for full details.
About LiveMind: LiveMind.com is a Westport, CT based internet company that provides an open marketplace for live online learning. Using the LiveMind platform and suite of services, anyone can create and teach a class on any subject, and offer it at any price or for free. People interested in learning use LiveMind to find and take classes on their specific topics of interest. Students select classes and instructors based on class descriptions, instructor reviews, ratings and price. All classes are offered in live, online interactive sessions using state of the art tools and technology including live video and audio interaction with the instructor and advanced presentation capabilities.
About Social Media Marketing GPS: SMM GPS helps companies large and smaller go from being grounded to up-and-running with social media in just 8 weeks. SMM GPS comes from the e-book of the same name, written by Toby Bloomberg. Toby is Founder/President of Atlanta-based strategy and social media consultancy, Diva Marketing, and is recognized by Forbes as one of the country's foremost bloggers. She is joined by Rob Petersen, Founder/President of BarnRaisers, an online and social media solutions company. Rob also is on the faculty at Rutgers University where he teaches an MBA course, Measuring and Tracking Social Media ROI.
###