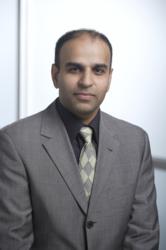 Seattle, WA (Vocus/PRWEB) March 02, 2011
Pacific Biomarkers, Inc. (PBI) (OTCBB: PBMC), a provider of biomarker laboratory services to the pharmaceutical, biotechnology and diagnostics industries, is pleased to announce that Amar A. Sethi, MD, PhD, the Company's Vice President of Research and Development, has been named as one of R&D Directions' "Most Notable People in R&D."
"We are very pleased and proud that Amar has been recognized with this distinguished honor. He has been an extremely valuable member of our team and has been instrumental in advancing our biomarker development programs for cardiovascular disease and kidney injury," said Ron Helm, PBI's Chairman and Chief Executive Officer. "PBI is committed to scientific and commercial excellence as our fundamental mission to develop novel biomarkers, and Amar's leadership in spearheading our efforts exemplifies this commitment."
"I am sincerely honored to be recognized by R&D Directions," said Dr. Sethi. "I continue to be fortunate to now have so many enriching opportunities in R&D, and I am particularly grateful for helping to leverage my years of experience in biomarker research toward PBI's specific research initiatives."
R&D Directions' selection of the "Most Notable People in R&D" pays tribute to those who have led and made the significant breakthroughs in the discovery and development of drugs that indelibly change the ways in which particular diseases are treated.
Dr. Sethi's entire career has been oriented toward analyzing markers in the human body that indicate the presence of specific ailments. After receiving his PhD in genetic epidemiology at the University of Copenhagen School of Medicine, he undertook postdoctoral research at Copenhagen University Hospital. There he investigated the genetic variation of the liver x-receptor and the beta-2 adrenergic receptor genes and their potential associations with cardiovascular diseases. Later, as an NIH postdoc, he focused on such topics as the compositional and functional properties of HDL in patients with ischemic heart disease, and the characterization and function of new Apo-AI mimetic peptides potentially to be used as HDL-C raising compounds.
Last year, Dr. Sethi was lead author on a research study published in Clinical Chemistry that identified the potential use of two diagnostic markers for ischemic heart disease. Individuals with ischemic heart disease and either high or low HDL-cholesterol levels were compared with subjects without ischemic heart disease. The study found that pre-beta1 HDL concentrations were twice as high in individuals with ischemic heart disease as compared to those with no heart disease. This was true in both the high and low HDL-cholesterol groups. The patients with elevated pre-beta1 HDL levels also had low LCAT, an enzyme important for removing excess cholesterol levels. Measuring both pre-beta1 HDL and LCAT, the authors were able to correctly classify subjects with ischemic heart disease in more than 90% of the cases. Thus, pre-beta1 HDL concentrations and LCAT activity levels are potentially useful diagnostic markers for ischemic heart disease.
In addition to his work on cardiovascular disease, Sethi is helping to lead Pacific Biomarkers' Kidney Injury Biomarker Initiative. It is anticipated that new kidney safety biomarkers will be developed to the point of use in clinical trials and ultimately as a basis of more accurate and powerful IVDs that could replace existing standard tests that are >60 years old. The initiative aims to identify the biological, analytical and clinical qualities of the markers via collaboration with several clients. To date, the analytical performance for some of the markers has already been characterized, while validation of others is still in progress. A chief goal will be to find the methods and testing platforms that produce superior precision, accuracy, sensitivity and specificity. The range of potential IVD tests making use of these markers includes one that could assist physicians who need general information about acute kidney injury; a test for use in the emergency room leading up to a kidney transplant; and a test to follow the progress of diabetic patients, a population prone to kidney disease.
About Pacific Biomarkers, Inc.
Established in 1989, PBI provides biomarker laboratory services and contract research services to support pharmaceutical and diagnostic manufacturers conducting human clinical trial research. The Company provides expert services in the areas of cardiovascular and musculoskeletal diseases, diabetes, obesity, and nutrition. The PBI laboratory is accredited by the College of American Pathologists, New York State, and the Lipid Standardization Program. PBI's clients include many of the world's largest pharmaceutical, biotech, and diagnostic companies. PBI also provides clinical biomarker services focusing on the emerging field of biomarker assay development and testing. Services include validating and performing custom assays for novel clinical biomarkers, immunogenicity testing, mass spectrometry, and multiplex testing. PBI is headquartered in Seattle, Washington, and its common stock trades on the OTC Bulletin Board under the symbol "PBMC".
For more information about PBI, visit the company's website at http://www.pacbio.com.
# # #