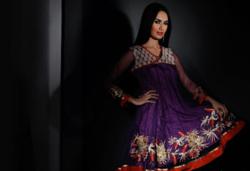 New York, NY (Vocus/PRWEB) March 01, 2011
Exclusively.In, the members-only flash sale site for Indian fashion, jewelry and home décor, has become the largest online Indian apparel retailer. Today, the site also surpassed 100,000 Facebook fans, making it the largest Indian fashion retailer on the popular social networking site. Since its launch only nine months ago, the ecommerce site has already become a commercial and viral success, growing in members by 20 percent each month, and garnering a broad base of consumers tweeting and "Like"ing the Indian infused style.
To further increase its social component, Exclusively.In just launched Facebook Connect on its site, allowing its members to share their favorite saris, jewelry and designers to their Facebook page. Through Facebook Connect, users will also be able sign up through their Facebook page, expediting the membership process.
"It's great to see our fans so actively involved in our site – it's truly because of this strong viral component that we have gained so many members and repeat customers," Sunjay Guleria, CEO of Exclusively.In, said. "Our members give us feedback, share photos of themselves wearing our clothing, and tell their friends about us through Facebook. Now we're making it even easier for fans of Indian fashion to become members – through Facebook Connect – and to make their shopping social."
Social networking sites such as Facebook and Twitter have become increasingly important to brands, especially those such as Exclusively.In that rely on word of mouth from their fans to get new users. To celebrate the Facebook Connect launch, Exclusively.In is giving away a trip to India to one of its members and a guest – including VIP access to Wills Lifestyle Fashion Week in Delhi. To sign up for the contest click here http://www.exclusively.in/loveindia
In addition to the launching Facebook Connect, Exclusively.In has also announced a deal with Heena Kochhar to offer her feminine and flamboyant styles on the site. Her collection of alluring kalidar dresses and tunics combine cosmopolitan and contemporary styles with a traditional Indian aesthetic.
Since its launch a half a year ago, Exclusively.In has become the go-to industry standard, bringing Indian fashion, jewelry and lifestyle products to American consumers. The site's broad and diverse subscriber base is growing at a rapid pace. Over 65 percent of its members that have bought items on the site have made repeat purchases.
To learn more, visit us at http://www.exclusively.in or join over 100,000 Facebook fans at facebook.com/exclusively.in. To start enjoying the Exclusively.In experience right away, go to http://www.exclusively.in to register instantly.
About Exclusively.In
Exclusively.In offers the best in Indian fashion, jewelry, home decor and travel. From the frontlines of the most inspired styles coming from the Indian subcontinent, they discover and deliver the latest designs and truly unique experiences. Launched in June 2010, Exclusively.In has featured over 200 different vendors in the first four months of sales.
# # #