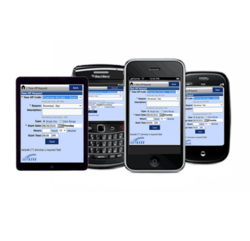 We see mobile based technologies helping school districts if accessibility is platform neutral and comprehensive.
Stevens Point, WI (Vocus/PRWEB) March 03, 2011
Now school districts have multiple mobile-friendly avenues for accessing Skyward's School Management System™ with its release of SMS Mobile that operates on smartphones including iPhone, Blackberry, and Android. Tablet devices like an iPad can also run Skyward's full Student Management Suite™. By developing these platforms in HTML, compatibility with current and future devices is unlimited.
Designed for ease of use on mobile devices, SMS Mobile offers functionality to view student emergency, attendance, schedules, and discipline information. By requiring no setup and quick access, SMS Mobile can make all the difference when seconds count. Whether on a field trip or at a sporting event, officials can quickly look up a student's emergency contact or medical alert information. Administrators will also appreciate the access to finance and human resources information that allows them to approve time-off and requisitions on the go. Most importantly, parents can easily check on how their student is progressing anytime with support for Family Access.
Currently, teachers have full access to their Skyward Gradebook and message center through Educator Access with an iPad or tablet PC, which this functionality will be incorporated into SMS Mobile for the 2011-2012 school year.
"We see mobile based technologies helping school districts if accessibility is platform neutral and comprehensive. Skyward's framework meets these requirements by providing access to student, finance, and HR information for employees while parents and students will have access to grades, attendance, and schedules at their fingertips," said Scott Glinski, Skyward president. "I personally use it to approve requisitions on the go while also checking my kids' grades as a parent. It allows me to capitalize on my time."
Skyward's SMS Mobile and HTML-based Student Management Suite™ provides administrators, teachers, and parents the most diverse options available for easy access to the information through their choice of device. Future improvements to SMS Mobile include discipline referrals, classroom attendance entry, and student access ensuring the needs of skyward customers will be met as they expand their use of mobile devices. For more information, visit http://www.skyward.com.
About Skyward
Skyward is a leading provider of K-12 school administrative software that surpasses districts' needs in state reporting, improves operational capabilities, and opens communication between schools and families. Today, you can find Skyward's School Management System™ in more than 1,400 school districts worldwide ranging from districts with as few as 50 students to state configurations supporting more than 800,000 students. Founded in 1980, Skyward serves school districts with its integrated student, finance, and human resources suite of products and is proudly made and supported in the U.S.A.
# # #