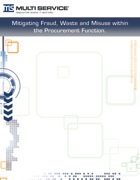 Overland Park, KS (Vocus/PRWEB) March 02, 2011
While commercial payments continue to stray from the paper-based procurement process to more efficient electronic payment vehicles, fraudsters show their relentlessness. According to the 2010 Payments Fraud and Control Survey, 73 percent of organizations experienced some form of attempted or actual payment fraud in 2009. These results illustrate the importance of thoughtful fraud prevention tactics to reinforce the cost-savings achieved through electronic payment vehicles.
A new white paper utilizes the U.S. Government's adoption and implementation of the P-card as a case study in mitigating fraud, waste and abuse in the procurement function. The paper consolidates the results of several audits conducted by the GAO that illustrate common opportunities for fraud, waste and abuse in the early adoption stage. It also references GAO recommendations, resulting actions and studies of fraud prevention measures that were taken to identify pre-purchase, post-purchase and long-term policy refinement opportunities for organizations implementing or evaluating their existing purchase policies.
The paper was published by Multi Service, a transaction management company specializing in closed-loop billing and payment systems. It is available for download at multiservice.com/thoughtleadership.
About Multi Service.
Multi Service is a global transaction management company specializing in billing and payment systems. Founded in 1978, the company provides specialized credit card services to fleet, commercial and government clientele, including the United States Government. Multi Service is the exclusive contractor of the U.S. Government SEA Card® and AIR Card® programs. The company has offices in the United States, Mexico, the Netherlands and Australia. For more information, visit http://www.multiservice.com.
###