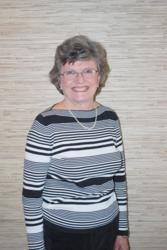 Exton,PA (Vocus/PRWEB) March 03, 2011
Ellie Lund, Purchasing Department Coordinator for Rouse Chamberlin Homes, celebrates her 25th year with the company. She is currently responsible for sending out the start and purchase orders which manages the building process and keeps the entire production schedule on time and on-budget.
"Ellie is one of the reasons that Rouse Chamberlin Homes has its longstanding reputation for quality construction," observed Rouse Chamberlin President Dave England. "From her first position here as a construction coordinator for our Clover Lea community, her work has kept buyers and our company on track and on budget."
Ellie's introduction to the home construction industry came early. Her father, University of Connecticut Professor Frank McCamey, built his own home from scratch. "He wanted to provide a home for our family and, given that money was tight, he did it quite literally. I remember being fourteen years old and straightening bent nails with a hammer, so you can say that it was really a family build."
Ellie began her career in the home construction industry just months after buying her own Chester County home in 1968, with the custom builder who built that home. After 15 years there, she moved to Century Kitchens for two years before moving to Rouse Chamberlin Homes.
"A lot has changed in the construction industry over the last 25 years," noted Ellie. "Back then, selections were done on blueprints with red pens. Multiple duplicate paper copies of everything were essential; the volume of paper needed was enormous. Computers and remote access to files have dramatically cut down the amount of physical paper needed to build a home. They have also added incredible efficiencies and reduced our operating costs, as well. We've been able to pass those savings on to the buyers."
"But there is one thing that hasn't changed in the last 25 years. Construction quality still begins in the planning and inner construction of the home. No matter how pretty the home looks on the outside, it is the inner structure that tells the quality story. The materials used, the care in design and the workmanship throughout - they continue to be the true measure of quality that results in homes which require less maintenance and offer happier ownership over the long-term."
Ellie has been a Chester County resident since 1966.
Since 1978, Rouse Chamberlin Homes has been building homes and thriving neighborhoods focused on the home buyers' needs. The result has included exceptional customer satisfaction results and industry recognition including "National Builder of the Year" and "America's Best Builder" awards. For more information, visit http://www.RouseChamberlinHomes.com.
###