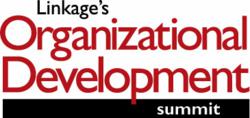 Burlington, MA (Vocus/PRWEB) March 03, 2011
Linkage, a global organizational development firm specializing in leadership, announced its new HR Generalist School embedded in the Organizational Development Summit, taking place May 2-5, 2011 in Chicago. This year-long learning opportunity will feature faculty, learning team leaders, coaches, and thought leaders including David Ulrich, Phil Harkins, and Lifetime Achievement Award winners Chris Argyris, Warren Bennis, and Edgar Schein.
The HR Generalist School is designed to equip Human Resource Generalists tasked with additional responsibilities—including strategic organizational development initiatives—for success. It starts with a one-day immersion program on May 2nd and is threaded throughout the remaining three days of the OD Summit. Areas of focus include Performance Management, Talent Management, Driving Change, Leadership Development, and Employee Engagement. The foundation of the HR Generalist School is the learning team—led by experienced HR professionals. The learning teams are daily focus groups where critical introspection takes place. Each participant will be asked to apply what he/she has learned from practical experience, organizational challenges and issues, and will have the opportunity to network and learn from fellow peers. Following the Summit, participants will take part in a year of learning including online discussions on OD topics, one-on-one coaching, and development webinars.
This year's Summit will also feature Sheppard Moscow LLP as a Platinum Sponsor. Sheppard Moscow is an OD consultancy specializing in business transformation, leadership development, team effectiveness, and results through relationships. For the past 40 years, Sheppard Moscow has been working with clients at the frontiers of what's possible in organizations.
Linkage's mission is to connect high performing leaders and organizations to the futures they want to create. With a relentless commitment to learning, Linkage offers conferences, learning summits, open-enrollment workshops, and distance learning programs on leading-edge topics in leadership, management, human resources, and organizational development.
For more information on the HR Generalist School, please call 781-402-5555 or visit http://www.linkageinc.com/OD.
Linkage is headquartered in Burlington, Massachusetts with operations in Atlanta, Boston, New York, San Francisco and outside the U.S. in Athens, Bangalore, Brussels, Hamilton, Hong Kong, Istanbul, Johannesburg, Kuala Lumpur, Kuwait City, Mexico City, Rome, Seoul, Shanghai, Singapore, Sydney, Vilnius.
# # #