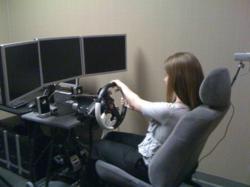 Improving sleep quality and treating chronic sleep disorders can lead to better health and increased public safety for all Americans
Atlanta, GA (Vocus/PRWEB) March 02, 2011
Researchers at NeuroTrials, a nationally recognized sleep research center in Atlanta are using a new driving simulator to study the influence of insomnia on driving. The simulator, which functions in a controlled environment at the research center, tests both healthy sleepers and insomniacs on their driving skills, alertness and reaction time during monotonous drives and on curvy roads.
Findings from the National Sleep Foundation's new 2011 Sleep in America poll suggest that Americans aren't getting the sleep they need and this loss of satisfactory sleep means more individuals are dozing off while driving.
Dr. Michael Lacey, a board-certified sleep specialist and neurologist who directs the Atlanta Sleep Medicine Clinic treats many patients who admit to dozing while driving. "Many of my patients admit to drowsy driving, often resulting in serious accidents. Drowsy drivers are a risk to themselves and others on our roads. Identification and subsequent treatment of sleep disorders in these patients can make a tremendous difference in their ability to remain alert and safe."
According to the NSF poll, half of 19-29 years olds admit they drove while drowsy at least once in the past month. More than 40% of individuals aged 30-45 years, 30% of those 16-18, and
28% of participants aged 46-64 years also admitted to drowsy driving within the last month.
Additionally, one in ten of those aged 16-45 say they drive drowsy once or twice a week.
As sleep quality suffers and drowsy driving continues to rise, the driving study at NeuroTrials Research offers physicians and researchers the opportunity to safely examine the science behind sleep and impaired driving.
"We hope that investigating underlying causes and stages of drowsy driving will lead to more effective methods of deterring it", said Dr. Russell Rosenberg, CEO of NeuroTrials and Vice Chair of the National Sleep Foundation. "Improving sleep quality and treating chronic sleep disorders can lead to better health and increased public safety for all Americans."
NeuroTrials is currently seeking participants for the driving simulator study. The study requires the participation of elderly insomniacs and healthy sleepers. If you are 65 years or older, you may qualify to participate in this study. In addition to all study-related care provided at no charge, eligible participants may be compensated up to $1650 for time and travel. Call 404-851-9934 or visit http://www.neurotrials.com for more information.
ABOUT NEUROTRIALS RESEARCH:
NeuroTrials Research, Inc. is an independent research organization devoted exclusively to investigational drug research and diagnostic testing, specializing in the Central Nervous System (CNS) area. Founded in 1997, NeuroTrials Research has grown to include a network of investigators with special expertise in: Neurology, Psychology, Psychiatry, Sleep Medicine, Pulmonary Medicine and Internal Medicine. Today, NeuroTrials Research has the largest and most advanced sleep research laboratory in the Southeast with the ability to run studies night or day, seven days a week.
###