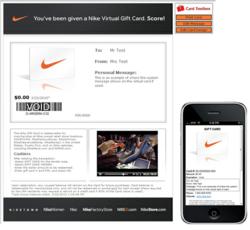 Instant delivery of an incentive through Giftango enhances the experience for the recipient. It opens the door for new promotions and expands our offering. This addition has been met with excitement from our clients.

Larisa Mendenhall, ITAGroup
Portland, OR (Vocus/PRWEB) March 03, 2011
Giftango Corporation, the virtual gift card company that enables incentive houses, loyalty professionals, and merchants to significantly reduce the fulfillment costs associated with traditional gift cards, today announced the launch of virtual gift cards for ITAGroup®. Giftango delivers virtual gift cards for 50 national brands through the incentive and loyalty channels, including Cabela's®, JCPenney®, Lowe's®, Nike® and Zappos.com.
ITAGroup added virtual gift card delivery for selected programs in November 2010 and is rapidly adding the functionality into the programs they power. "Instant delivery of an incentive through Giftango enhances the experience for the recipient. It opens the door for new promotions and expands our offering. This addition has been met with excitement from our clients," said Larisa Mendenhall, Director of Individual Awards for ITAGroup.
More than a dozen incentive and loyalty houses leverage Giftango's platform for virtual gift card delivery in the marketplace today. The Giftango platform provides verified delivery, customer service resources and reporting for clients.
"We're pleased to have such a great partner in ITAGroup. We have several exciting advancements related to eGift and Mobile Gift capabilities on the horizon. Working with leaders in the space expedites these efforts," said David Nelsen. "We have just scratched the surface of the power of virtual delivery."
How The Giftango Solution Works
The Giftango solution allows Incentive and Loyalty companies to make a onetime connection to Giftango which then provides the customer with the option to send their gift card to an email address and/or mobile device. In addition to dramatically lowering fulfillment costs and inventory concerns, the Giftango solution brings with it a host of additional benefits including:

Verified delivery – Cards are delivered to the consumer's email immediately at the conclusion of the transaction. The Giftango solution tracks the receipt of the gift card and issues reminders to the consumer if they have not viewed their gift card
Brick and mortar retail acceptance – All of Giftango's brands that have retail outlets accept the printed or mobile versions of the gift card
A unique consumer experience, including: the ability for the consumer to re-gift the virtual card, select from numerous gift card designs, view video on the card, and display a mobile-friendly version of the gift card on their phone
About ITAGroup
ITAGroup is a full-service performance improvement company focused on improving business results through people. Leveraging technology from assessment through post-operation analysis, ITAGroup engages and motivates people through sales incentives, employee recognition programs, business-to-business loyalty solutions, product launches, marketing services, group travel events and business meetings. The company is employee-owned and headquartered in West Des Moines, Iowa, with sales offices in Atlanta, Chicago, Dallas, Des Moines, Indianapolis, Los Angeles, Minneapolis, New Jersey, New York, Philadelphia, San Francisco and Florida.
About Giftango
Giftango Corporation, founded in 2005, has redefined gifting with their innovative delivery of virtual gift cards to email and mobile phones. These innovative solutions give Loyalty and Incentive companies the ability to add virtual gift card fulfillment to their existing user interface for a wide variety of national brands. Giftango is integrated with eleven gift card processors and has patent pending technology focused on security, the delivery of virtual gift cards to mobile devices, and virtual card functionality. Giftango delivers virtual cards for hundreds of merchants throughout the US and Canada and for more national brands than any known competitor. http://www.giftango.com.
###