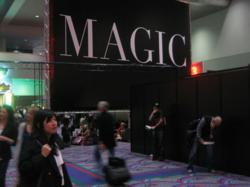 Las Vegas, NV (Vocus/PRWEB) March 02, 2011
Lucky Brand, best known for their men's and women's jeans, celebrated a rousing success at MAGIC, the most comprehensive trade event in the international fashion industry. The Los Angeles-based brand was proud to unveil their latest and greatest at MAGIC over the course of Valentine's Day weekend at renowned fashion tradeshow in Las Vegas.
The show stoppers included a new line of fabulous, fashion-forward handbags, fresh denim styles and highly anticipated additions to the Legend collection. Inspired by the unique culture, people and neighborhoods of Southern California, Lucky Brand's free-spirit-inspired styles made for an exciting show.
Lucky's new assortment is intended for shoppers who appreciate eclectic style and innovative detailing. "We've designed these collections with the creative and free-spirited in mind, crafting every article into a piece of self-expression," says Charlie Cole, Vice President of Online Marketing for Lucky Brand.
Lucky's low-rise Charlie Flare jeans, long cardigans with tassels, and hand-crafted leather handbags were especially sought out by editors and wholesale accounts, refreshed by the artisan roots and detailed embellishments of Lucky's latest.
A more comprehensive Fall Preview is planned for mid-March, where fashion editors and industry retailers will get to glimpse all of Lucky Brand's anticipated designs.
About Lucky Brand
Lucky Brand designs and produces jeans, sportswear, knits, wovens, outerwear, T-shirts and active wear. Additional Lucky Brand licensed products include swimwear and accessories for men and women. The Lucky Brand collections are carried at better department and specialty stores, and at over 183 company-owned stores nationwide and three internationally. Complete collection can be viewed at http://www.luckybrand.com.
###