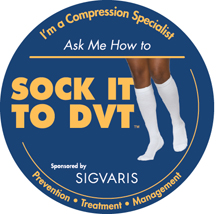 Wearing compression socks or stockings plays a role in the prevention, treatment and management of DVT and the complications associated with it.
Peachtree City, GA (Vocus/PRWEB) March 01, 2011
Did you know that every year more people die from blood clots than from breast cancer and AIDS combined? In fact, more than one million Americans are affected every year. That's why SIGVARIS, the global leader in medical compression stockings and socks, is working to educate people about DVT (Deep Vein Thrombosis) prevention.
SIGVARIS promotes DVT prevention all year long and is kicking off DVT Awareness Month with a special "Sock It To DVT" campaign. Wearing compression socks or stockings plays a role in the prevention, treatment and management of DVT and the complications associated with it. SIGVARIS has provided retailers across the country with special "Sock It to DVT" buttons to wear all month long. The goal is help educate people about DVT prevention.
"SIGVARIS became the global leader in medical compression therapy by caring about the health of the people that wear our products. We wanted to help raise awareness about the dangers of DVT because many people develop blood clots in their leg. As a company, we strive to help people have healthy legs, and our DVT prevention campaign allows us to fulfill our mission to educate everyone about how to keep their legs healthy," says Judith Brannan, SIGVARIS Medical Affairs & Education Manager.
The Centers for Disease Control and Prevention (CDC) recommends the following tips for DVT prevention:

Maintain a healthy weight, eat a healthy diet and don't smoke
Exercise regularly
Drink plenty of water and avoid alcohol or caffeine
Wear loose-fitting clothes
When traveling or sitting for more than four hours get up and walk around every few hours and exercise legs while sitting.
Move around as soon as possible after surgery, illness or injury
Those at risk for DVT should talk to their doctor about graduated compression stockings and medication (anticoagulants) to prevent or treat DVT
To learn more about DVT prevention, check out these educational resources:
http://www.sigvarisusa.com
http://www.vdf.org/diseaseinfo/dvt/
http://www.phlebology.org/patientinfo/untreated.html
http://www.cdc.gov/ncbddd/dvt/faq_dvt.htm
http://www.stoptheclot.org/
About SIGVARIS
SIGVARIS® North America is part of an internationally active medical device group headquartered in Winterthur, Switzerland that focuses on the development, production and distribution of medical graduated compression garments, including hosiery and socks. With distribution in more than 50 countries on six continents, SIGVARIS, is recognized as a global industry leader in the area of compression therapy for the management of chronic venous insufficiency and venous disorders. SIGVARIS' US manufacturing plant is located in Peachtree City, GA. SIGVARIS is a committed DVT prevention advocate. In addition to medical products, SIGVARIS also manufactures lifestyle and sports products based on its expertise in graduated compression therapy. http://www.sigvarisusa.com SIGVARIS, LIFE FOR LEGS and the leg icon are registered trademarks of Ganzoni & Cie AG, St.Gallen/Switzerland and in many countries worldwide.
###