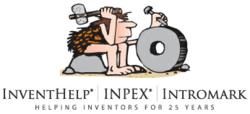 Pittsburgh, PA (PRWEB) March 02, 2011
InventHelp®, America's largest inventor service company, announces that one of its clients, an inventor from Florida, has designed a modified parking-spot display that could simplify the time and effort expended for a handi-capped driver to locate a parking space, especially in low-lighting conditions. This invention is patented.
The "New Handi-Capped Parking Design" sign would include a solar panel that could power lights to illuminate the space at night. This design could ensure that a handi-capped parking space is easily visible. This feature could save time and effort for an individual looking for a handi-capped parking space, which could enhance their safety.
The New Handi-Capped Parking Design would consist of a sign mounted on a 20-foot tall pole. A solar panel would be situated atop the pole. The handi-capped display light would be positioned near the center of the pole. The base of the pole would also include lights. At night, the handi-capped display and base would light up. The base would illuminate the area under and around the floor of the vehicle.
InventHelp® is attempting to submit the invention to companies for review. If substantial interest is expressed, the company will attempt to negotiate for a sale or royalties for the inventor. For more information, telephone Dept. 09-FLA-1839 at (800) 851-6030.
# # #