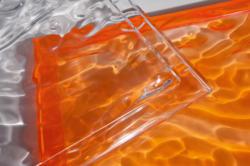 Sacramento, CA (Vocus/PRWEB) March 02, 2011
Lumens.com announces its exclusive free-gift-with-purchase offer from Italian contemporary lighting and furnishings manufacturer Kartell, valid March 1 – 31, 2011. With any Kartell purchase of $300 or more from Lumens.com, customers can receive a free Dune Tray(size small, crystal color) designed by Mario Bellini for Kartell.
Kartell is known around the globe for its vibrant, original polycarbonate pieces, ranging from bookshelves, to outdoor sofas to suspension lighting. Working with coveted contemporary designers like Philippe Starck and Ferruccio Laviani, Kartell's signature pieces are lively, modern pieces made from colorful and transparent plastic. Best-sellers from Kartell include:
FLY Suspension Lamp: Designed by Ferruccio Laviani, the FLY Suspension Lamp is made from methacrylate and available in a full spectrum of bright colors, reminiscent of a soap bubble with its dome shape.
Componibili Round Storage Modules: These modular units designed by Anna Castelli Ferrieri have been produced for more than 30 years and are exhibited at the Museum of Modern Art in New York.
Victoria Ghost Chair: A favorite from Philippe Starck, the Victoria Ghost Chair is made from Kartell's signature polycarbonate and available in 10 bold colors.
Bourgie Table Lamp: Available in five glam finishes, the Bourgie Table Lamp is a distinctive contemporary lighting fixture, meshing modern technology with a tried-and-true form to create a 21st century Bourgeoisie lighting fixture.
Easy Pendant: A price-perfect pendant from Ferruccio Laviani, the Easy Pendant can be hung alone or in a cluster, creating a unique reflection through its cylindrical polycarbonate shade.
Lumens offers a full range of Kartell designs, including suspension lights, pendants, sconces, bookshelves, storage containers, tables and a wide variety of accessories.
In addition to this exclusive free-gift-with-purchase offer, Lumens.com also offers:
-Low-price guarantee
-Expert service via our customer service center
-Easy, no-hassle returns
-Volume order discounts
-More than 300 manufacturers, from contemporary lighting to transitional fixtures and modern furnishings, gifts and home accessories.
For additional information on Kartell or this exclusive offer from Lumens.com, contact Sarah Schaale or visit lumens.com.
About Lumens Light + Living:
Lumens Light + Living is dedicated to offering the very best of design-oriented lighting, fans and home accessories, from the most contemporary international designs to modern interpretations of classic design.
Contact:
Sarah Schaale, Assistant Marketing Manager
Lumens Light + Living
916-444-5885
http://www.lumens.com
# # #