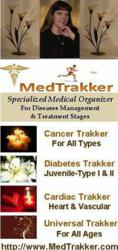 Just because a person has been diagnosed with a chronic health condition such as Cancer, Diabetes or a Cardiac related illness doesn't mean they have to stay confined to their home. Patients need to see variation in their environment and be able to relax
(Vocus/PRWEB) March 02, 2011
Innovative Medical Organizer helps patient with a chronic health condition travel safe this spring and summer. Amber Bowden, a leading expert in patient care reveals her latest invention, the Medtrakker, a medical organizer designed to help a sick patient coordinate all their medical information.
She also reminds us about disadvantages of electronic medical records that are being sold online while traveling long distance. This unique medical organizer was designed by Bowden after her own mother passed away with leukemia. It helps to manage personal health records and reduce stress.
In an interview Amber Bowden told us, "Keeping track of all the accounts and medical information was a nightmare when her mother was fighting cancer". The coordination of various medical instructions, surgeries, prescriptions, and physician's visits became an overwhelming task so Bowden started compiling everything into one organizational unit which made caring for her mother much easier.
Bowden advocates that a patient with a chronic health condition does not have to be confined to their home. She states that "Just because a person has been diagnosed with a chronic health condition such as Cancer, Diabetes or a Cardiac related illness doesn't mean they have to stay confined to their home. Patients need to see variation in their environment and be able to relax." With a physical medical organizer, such as Medtrakker, a patient can safely travel almost anywhere.
This manual medical organizer puts together the necessary health information in a systematic manner so that it can be accessed efficiently and quickly. Visionary inventor, Bowden also recommends that along with their medical organizer, a patient carry their prescription bottle because name brands may differ in various areas. She also suggests that a person contact their insurance carrier before traveling abroad or other states as an extra premium may be required.
A patient can choose whether or not to carry with them an electronic or manual medical organizer. When traveling, you may be tempted to use a digital organizer to keep track of electronic medical records. However, carrying a physical organizer is the preferred method for most patients that travel during spring and summer. Disadvantages of electronic medical records are nothing comparied to advantages:

It is more reliable than electronic apparatuses.
There may be times when it is not convenient to access an electronic device.
In summary, patients with a chronic medical condition no longer have to be confined to their homes. Amber Bowden's ingenious medical organizer, Medtrakker gives a person the chance to travel safely and still enjoy family time and life to its fullest. It takes patient care and puts it into a class of its own by providing a cutting-edge solution to the family and person itself.
The medical organizers are available exclusively online at: http://www.medtrakker.com/
For Media: Amber Bowden is available for speaking, events, book signings and expert quotes.
Her media kit is available to download at http://www.medtrakker.com
Amber Bowden can be reached on her fanpage http://www.facebook.com/MedTrakker for further questions regarding Medical Organizers and Twitter at http://twitter.com/medtrakker
Publicist Tatyana Gann, 615.354.7625
###