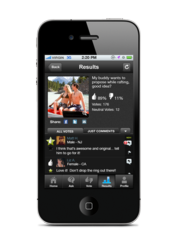 New York (Vocus/PRWEB) March 02, 2011
Much like the results consumers receive when using its iPhone app, mobile startup Opinionaided today received a quick response to its funding requirements with an over-subscribed round of funding from a prominent group of super angel investors and institutional venture capitalists. The capital raised will allow Opinionaided to grow its vibrant mobile question and answer community and expand to other mobile platforms beyond Apple's iOS platform.
Opinionaided is a free application that allows consumers to use their iPhone, iPod Touch or iPad to get advice and opinions in real-time. The company, which has become one of the fastest growing real-time advice and opinions service, announced today that it has received an additional seed round of $1 million from venture capitalists General Catalyst, SoftBank Capital and Draper Fisher Jurvetson.
The company is also announcing angel investment contributions from DeamIt Ventures' Mark Wachen, Jonah Goodhart of Point Ventures Group and founding investor in Right Media, Early advisor to Facebook and Coveroo CEO Karl Jacob, ENIAC Ventures and Vince Monical, former head of Emerging Platforms, Google among others. This new round takes the company's total funding to $1.2 million.
Opinionaided has received a 4 out of 5 stars rating on iTunes with overwhelming feedback citing its 'addictive' nature. The service has established itself as a leader in the mobile question and answer ecosystem delivering a volume of response in real-time that is typically tenfold that of questions asked on Facebook or Twitter all while maintaining a simple and addictive user interface.
How Opinionaided works:
1. Anyone can download the free Opinionaided iPhone/iPad/iPod Touch application from the iTunes App Store by visiting http://bit.ly/9aeB30, registering and starting to answer questions from a variety of categories with a simple thumbs up, thumbs down and text comments.
2. Consumers simply chose a question and associated image, determine the best category and demographic for their question and submit it for other users to answer. Users ask questions such as "Does this outfit look good?" "What do you think of this shot I took of the sunset?" "Would you switch to the Verizon iPhone?"
After posing a question users can immediately see results categorized by the percentage that responded positively or negatively as well as listing separately all the user comments. From there consumers can reply back to the comments or create a new question for peers to vote on.
"We're filling a pain point out there that hasn't been solved by any other social media service, big or small. We're delivering super-fast opinions to virtually any question on-the-fly, which has proven to be compel 50 million responses to about 600,000 questions," states Opinionaided CEO Dan Kurani.
Opinionaided recently launched version 3.0 of its iPhone, iPad and iPod Touch app available here http://bit.ly/9aeB30. Version 3.0 adds the ability to further customize the voting process by filtering questions by gender and simplifies the way users ask questions directly to their friends. Other features in 3.0 include a new process for discovering friends and push notifications to keep track of the results of the questions while not in the app.
While other products focus on gathering responses from experts or questions asked about niche technology oriented topics, Opinionaided allows anyone with an opinion to express it in a large variety of categories. This promotes a larger volume of answers in a shorter period of time than other question and answer platforms.
"We believe the future is bright for real-time opinions and we have just scratched the surface of the mobile medium," concludes Kurani.
About Opinionaided
Opinionaided is a free application that allows consumers to use their iPhone, iPod Touch or iPad to get advice and opinions in real-time. Users can also answer questions at http://opinionaided.com/ with more platforms coming soon.
###