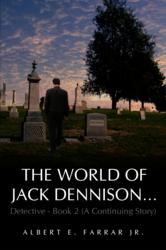 (Vocus/PRWEB) March 04, 2011
This second installment of mystery continues the adventures of Detective Jack Dennison.
The Kidnapping and the Widow
Jack helps a lady find her two daughters. An old friend has cancer, and the grandson of a deceased industrialist is kidnapped. The widow makes a play for him, and Jack gets into trouble trying to catch the kidnapper.
Drama at Golden Gate
Jack looks into an officer shooting. He learns his wife is expecting, and she and a model friend are kidnapped. Jack rescues them, but later the kidnapper escapes custody and tries again. Jack's friend asks him to sell his house.
A Complicated Life
Jack's wife loses the baby. He notices she seems to be having physical problems, and many tests later they learn she has a fatal disease. His friend is involved in an auto accident, and Jack meets a new neighbor.
A Changing Lifestyle
A prominent family member is murdered. Jacquee's condition gets worse. There is an attempt on Jack's life. Caring for his wife at home is too difficult, as her condition worsens and she is finally placed in a facility to better care for her. Another attempt is made on his life. His wife's situation worsens, and she finally dies.
Destined to Be Alone
Jack loses a close friend who is mistaken for him during another attempt on his life. A murder is solved, and Jack finally learns who is responsible for trying to kill him. His friend's cancer is in remission, and Jack decides he needs to get away to clear his mind.
About the Author
While not writing stories, the author and his wife travel, visit friends, and enjoy living. He hopes you enjoy the continuing adventures of his character and will look forward to his further adventures in this book as well as the next.
The World of Jack Dennison...Detective-Book 2 (A Continuing Story) is a 238-page paperback with a retail price of $21.00. The ISBN is 978-1-4349-8172-1. RoseDog Books of Pittsburgh, Pennsylvania published it. For more information or to request a review copy, please visit our virtual pressroom at http://www.rosedog.com/pressroom or our online bookstore at http://www.rosedogbookstore.com.
# # #