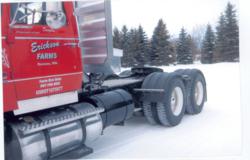 Blooming Prairie, MN (Vocus/PRWEB) March 02, 2011
Winter's icy grip continues to hold much of the country. It's the toughest time for trucks, trailers, equipment and cargo.
According to the American Public Works Association, 70 percent of municipalities in North America utilize liquid de-icers on roads. De-icers are formulated using corrosive chemicals that damage any metal they come in contact with.
Historically, simple rock salt has been the most practical, cost-effective ice melter. But with salt alone not being effective below 15 degrees Fahrenheit cities have turned to a combination of solid and liquid substances. The so-called "brew masters" now mix liquid chemicals such as calcium chloride and magnesium chloride with a base of salt brine.
These solutions attack metal. The chemical components of the mixtures will migrate into and onto any area of your truck. Any metal component is susceptible to corrosion from these substances. Including metal fenders.
Truckers need to mitigate the damage caused by various de-icing materials. Start with Minimizer fenders and brackets.
Minimizer fenders will add value to your truck in the winter and year-round:
1. Minimizer fenders are non-metal. They won't corrode, need paint, fade, rust, crack or need polishing. De-icing materials, no matter what the concoction, will not hurt these fenders.
2. Combine the Minimizer fender with the Minimizer poly brackets and you've got the best combination of durability in the industry. The brackets are made from a similar material as the fenders.
3. Both the fenders and brackets are guaranteed for life.
4. Every fender has a unique lip that provides superior control of water spray, chemical spray and rocks. Your equipment and loads will be cleaner.
The primary solution available to truckers to fight corrosive ice-melting chemicals is a good set of non-metal fenders. And the best option is Minimizer fenders and poly bracket kits.
Minimizer fenders and related products are available through exclusive Minimizer distributors. To order Minimizer fenders find a distributor by clicking here.
For more information or to contact a dealer, call us at (800) 248-3855 or visit our website or email us at info(at)minimizer(dot)com.
About Minimizer
Headquartered in Blooming Prairie, Minnesota, USA, Minimizer manufactures poly truck fenders, poly toolboxes, customized truck mud flaps, and bracket kits. Family owned and operated for nearly three generations, Minimizer parent company Spray Control Systems, Inc., was founded in 1983. Minimizer aims to provide products tough enough to please tough people in a tough industry. For more information call (800) 248-3855 or visit http://www.minimizer.com.
###