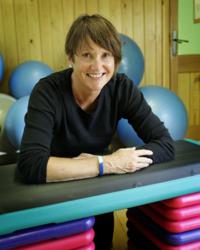 I am thrilled to have received testimonials for my work
(Vocus/PRWEB) March 09, 2011
Bitesize exercise is a simple fitness iPad app. A short video clip illustrating the app is available at http://www.bitesize-exercise.com, together with a couple of screen shots from the app. The website homepage explains the app format, listing the different exercises and giving fitness tips on each exercise.
Bitesize exercise offers quick, effective and achievable exercises that can be done at the desk or in the home. No special equipment or clothing is required. It was compiled by Theresa Wright, an experienced Personal Trainer and Sports' Massage Practitioner, based in Newbury Berkshire UK.
This month Theresa Wright has created a Facebook page for Bitesize. She posts exercise and health tips every day and a healthy recipe compiled by herself on Wednesdays! To visit the page, go to http://www.facebook.com/pages/manage/?act=304640876#!/pages/Bitesize-exercise-fitness-tips/132668736800775.
The Bitesize Exercise Fitness iPad app uses ordinary people doing the exercises. Theresa has put up some photos of the auditions on the new Facebook Business page. This was such fun and everybody was laughing so much it's a surprise that any successful candidates were picked at all! They were all so enthusiastic. Theresa chose regular "Jos" and "Joes" because she wanted to show that appropriate exercise is achievable to everyone, no matter age, ability or present fitness level. Through Bitesize Exercise fitness tips, each and every one one of us can get started on a fitter and thus, healthier lifestyle.
Theresa is looking for feedback from those who have purchased Bitesize Exercise. There is a "Testimonials" page up on the website now http://www.bitesize-exercise.com. Theresa is pleased to say that there are already a few positive feedbacks which have been uploaded. If you have bought Bitesize Exercise recently, please let her know what you think at support(at)bitesize-exercise(dot)com.
The other new feature on Bitesize Exercise is an "Articles" section. Theresa has been writing articles about fitness matters for nearly seven years now and has uploaded a selection onto the website. The articles range from the importance of flexibility as we get older, to advice on preparation for a major fitness challenge.
The quick, simple and achievable exercises can easily be performed whilst sitting at a desk or table. There are no set rules for how many times each exercise should be performed. Guidelines are offered to help get started. The whole idea is to build up a slow and consistent exercise routine that can be performed whenever and wherever possible. Bitesize Exercise offers fitness tips which encourage everyone to find the correct level of exercise for their ability.
# # #