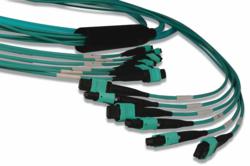 Over the past few years, we have built our OM4 fiber product set and experience through customer-specific OM4 system development and deployment. Now that the standards picture is clearer, Siemon is in a strong position to offer a full OM4 line globally.
Watertown, CT (Vocus/PRWEB) March 02, 2011
Siemon announced the addition of multiple OM4 fiber optic products to its comprehensive line of high-performance fiber optic cabling solutions. Siemon's new OM4 Plug and Play fiber cable assemblies, pre-terminated duplex trunking cables and traditional field-terminated cable and connectivity provide an extended distance multimode option for 10Gb/s as well future-proof migration options for 40Gb/s and 100Gb/s application speeds.
"Over the past few years, we have built our OM4 product set and experience by developing and deploying Siemon OM4 systems globally on a customer-specific basis," noted Charlie Maynard, Siemon Fiber Optic Product Manager. "During this time we used customer feedback to refine and expand the product family. With the strength of our current OM4 offering, along with a clearer global OM4 standards picture from ISO and TIA, we knew the time was right to offer the Siemon OM4 solution set on a widespread global basis."
Siemon's enhanced OM4 Plug and Play system's modules and adapters are supported by a wide array of factory-terminated cable assemblies that combine Siemon's reduced-diameter RazorCore cable with 12-fiber MTP connectors. These 40/100Gb/s-ready MTP-to-MTP cable assemblies can be ordered in custom lengths and are designed to be quickly pulled and connected to Plug and Play modules or MTP adapter plates. Available in 12 to 144 fiber counts in increments of 12 fibers, these assemblies are user-configurable to precise application requirements.
Siemon's factory terminated MTP-to-LC and LC-to-LC or SC-to-SC fiber trunking cable assemblies are also available in OM4 configurations. 10Gb/s MTP-to-LC assemblies allow multi-fiber MTP connectors to integrate with LC or SC interfaces in current network equipment while the LC-to-LC and SC-to-SC trunks provide high-performance 10Gb/s fiber links without the complexity and performance variability of field terminations.
These turnkey OM4 solutions allow high performance data center links to be deployed 75% faster than traditional field terminations. Beyond installation speed, Siemon plug and play and preterminated trunking products provide a "greener" approach, eliminating the waste associated with additional connectors, termination kits and other consumables.
Siemon's core OM4 fiber line also includes 10Gb/s indoor tight buffer distribution cable, indoor interlocking armor tight buffer cable, indoor-outdoor tight buffer and loose tube cable available with OFNR, OFNP and LS0H jacket types.
For more information on Siemon's OM4 fiber optic line, as well as other Siemon network cabling innovations visit: http://www.siemon.com/e-catalog/ECAT_Index_page.aspx?category_id=fi
Follow Siemon on Twitter: http://twitter.com/siemoncabling/
Join Siemon on Facebook: http://www.siemon.com/go/facebook
###