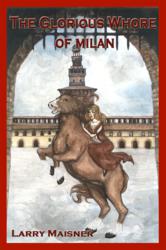 Encino, CA (Vocus/PRWEB) March 04, 2011
The Glorious Whore of Milan, a new book by Larry Maisner, has been released by RoseDog Books.
Renaissance Italy was a country exiting the Dark Ages and vibrant with advances in the Arts, Sciences, Humanities, Music, Politics, and Medicine. It was also a country suffering from the intrigues of neighboring nations and the venality of the landed gentry, both eager to dip deeply into the wells of the nation's swelling fortune.
Who or what could save the budding dominion from rape and ruin? It took a young, visionary genius from an immigrant family. She finds an extraordinary way to ease the suffering caused by cruel grasps for power and the indifference of the Mother Church.
Larry Maisner was born in London, England, where he survived a typically English public school education. Enlisting in the United States Air Force, he graduated from electronics technical school and served overseas.
As an engineer and engineering writer in the aerospace industry, he was involved in the documentation of several programs related to the Global Positioning System (GPS), marine navigation systems, and industrial robotics. He writes technical books for bread and sports books and novels for love, having studied creative writing at the UCLA Writer's Workshop. There, the late film producer/writer Leonardo Berkovici, award-winning novelist Richard Setlowe, and film writer Michael Levin honed his creative writing skills.
Larry's first published novel, Engines of Corruption, is a grim chiller of a political thriller. His second work is a literary fiction novel, From a Gentle Lantern. Larry is a member of the Independent Writers of Southern California, through which he shares a collegial literary interchange. He is at home in Encino, California, with wife Val and Maltese Terrier Trevor.
The Glorious Whore of Milan is a 166-page paperback with a retail price of $19.00. The ISBN is 978-1-4349-8294-0. RoseDog Books of Pittsburgh, Pennsylvania published it. For more information or to request a review copy, please visit our virtual pressroom at http://www.rosedog.com/pressroom or our online bookstore at http://www.rosedogbookstore.com.
# # #