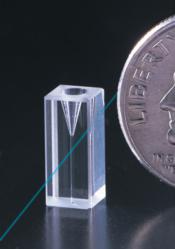 What sets NSG apart from their competitors is that NSG manufacturers their own quartz/glass material.
Farmingdale, NY (PRWEB) March 03, 2011
NSG Precision Cells has been manufacturing flow cells for flow cytometry, HPLC, life sciences, etc. for over 50 years. NSG started out back in the 1960s making cuvettes for spectrophotometers and has improved their technology to making highly precise micro flow cells.
There are only a handful of manufacturers in the world that can manufacture custom flow cells and NSG Precision Cells is proud to be one of these elite companies. What sets NSG apart from their competitors is that NSG manufacturers their own quartz/glass material. No other flow cell manufacturer in the world can make this claim and this gives NSG a big advantage because from start to finish the project never leaves their hands.
Taking the proper care of NSG's custom flow cells is very important. The improper use and care of a flow cytometry cell can cause inaccurate readings and inaccurate data. Improper care can also mean having to spend hours on the phone with customer service, having to send your machine in for service, or having to completely replace the flow cell. In some cases the entire optics system has to be taken out to replace the cell.
NSG Precision Cells custom quartz manufacturing allows OEM manufacturers the advantage of designing the exact flow cell that they need to fit their equipment. Precision Cells can manufacture flow cells with chamber dimensions of 2mm to as small as 10um, and even smaller if required.
NSG uses their highly popular "ES Quartz" for all the flow channel cells they manufacture. This high grade quartz is made at the NSG factory in Japan to ensure that the project never leaves Precision Cells hands.
NSG has made leaps and bounds in the flow cell industry. Growing from a small factory where everything was made by hand and could only manufacture a few hundred pieces per month, to a large automated factory that can produce ten of thousands of flow cells per month with precision that is second to none.
What customers get when they use NSG for their quartz manufacturing needs is first class customer service. Customers can speak to real people and not an automated message. Flow cells that are 100% tested and up to specifications that the customers layout. The peace of mind that Japanese manufacturing offers.
NSG Precision Cells also advises manufacturers and flow cell users to do a vigorous cleaning after each use. A clean flow cell and optical connectors/assemblies are crucial for ensuring proper operation of any flow cytometer or any machine that uses custom flow cells. An important note is to not allow solutions to dry up in a flow channel cell. Solutions that contain dissolved salts, proteins or another solid solutes will damage the flow path. Also researchers must be careful not to allow particles to go in the flow cell as harm to the flow cell, such as scratching, may occur. Scratches will have a negative effect on the performance of the flow cell and if they are in the detector area, the flow cell will not work.
For easy cleaning, flush a tiny bit of distilled water through the flow cell. Take a syringe and fill it using a 10% surface active detergent solution. Insert the syringe into the flow cell and spray the detergent into the cell. After a few squirts, leave the solution inside the flow channel for a little over 2 hours. The flow cell must be rinsed thoroughly using distilled water.
Overnight a flow cell can be left filled with buffer. Weekend and long-term storage NSG recommends to flush the flow cell with distilled water after which fill it with 20% ethanol. For drying purposes the flow cell may be dried using a stream of clean nitrogen.
More information about NSG Precision Cells flow cell manufacturing can be found at PrecisionCells.com
About NSG Precision Cells
NSG Precision Cells, Inc. was founded in 1958 and has been growing ever since. NSG Precision Cells, Inc. is a well established, highly regarded quartz manufacturer and we specialize in the manufacturing of quartz flowcells, quartz flow channel cuvettes, quartz microchips, quartz cuvettes, and other quartz optical products.