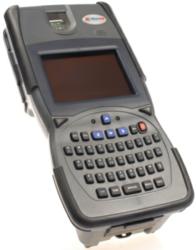 iDL500
Fairfax, VA (Vocus/PRWEB) March 03, 2011
MaxID customers have now deployed hundreds of the award-winning iDL500 multimodal devices and their MaxIDentity Suite software. Customers deploying MaxID hardware and/or software for maritime solutions include the United States Coast Guard, the Pacific Cruise Ship Terminal at the Port of Los Angeles, the Half Moone Cruise and Celebration Center in Norfolk, VA, The US Army Surface Deployment and Distribution Command (SDDC) Transportation Battalion, The Immigration and Customs Enforcement (ICE) Agency, The Delaware River Port Authority, The Port of Shreveport-Bossier, the Virginia International Terminals and Citgo Petroleum.
"Funding for security expenditures appears to be loosening up, and the interest to begin complying with the TWIC requirements seem to be on the rise. We continue to see a surge in both interest and deployments as our solution becomes more broadly recognized, accepted and purchased in industry," said Brian Skiba, President of MaxID Corp US.
The MaxIDentity Suite contains a series of ready-to-use applications to read PIV, PIV-I, TWIC, CAC, FiXS, and FRAC smart cards as well as passports, ePassports, Seafarer ID cards, and driver's licenses. The product can be purchased using the Software-As-A-Service (SaaS) model, so organizations can pay a low monthly fee for the application suite as an alternative to purchasing outright. The Suite is available on the MaxID line of multi-modal portable devices including the iDL500, iDL502, and iDL520 today. The MaxIDentity Suite was jointly developed by MaxID Corporation based in Fairfax, Virginia and MultiModal ID, LLC based in Falls Church, Virginia.
The iDL500 is a multi‐modal, rugged mobile computer that offers a complete set of features‐ including QWERTY keyboard, contact card, contactless card, barcode, optical fingerprint, and optional magnetic swipe and MRZ readers with a digital camera, GPS, and comprehensive communications capabilities such as 3G, GSM and WiFi. The iDL500 is a complete, integrated mobile solution for all field-based enrollment, badging and identity management requirements.
About MaxID Corporation
MaxID Corp is a leading provider of identity and security solutions. It designs, manufactures, and sells identity management solutions for a mobile environment. The company is headquartered in Fairfax, Virginia and has offices in the United Kingdom, and South Africa.
MaxID Corp maintains a global research and development team that has more than 20 years experience introducing new technologies. The company's most advanced biometric handheld devices and application software solutions are manufactured in the United States and distributed worldwide. More than 25,000 identity devices are being deployed worldwide by customers such as the US Department of Defense, the US Department of Homeland Security, border and law enforcement agencies, and power generation and maritime facilities. For more information about MaxID Corp, please refer to the website http://www.maxidcorp.com or call +1 (703) 573-0125.
About MultiModal ID, LLC
MultiModal ID is the identity management global technology innovator of choice for biometrics credentialing, security, and public safety. The company is headquartered in Falls Church, Virginia, and has offices in Virginia Beach, Virginia. MultiModal ID offers identity management solutions as stand alone or integrated value-added turnkey solutions that meet demands for border control, embassy security, terrorist threats, law enforcement, port security, banking, and much more. Learn more about MultiModal ID how our solutions ensure optimum Return on Security Risk (ROSR), and our sophisticated suite of identity software included with the MaxID MaxGuard offering. Call us at +1 (301) 502-8720 or visit our website at http://www.multimodalid.com.
Contact:
Maryam Sabbagh, Manager, Public and Government Relations
MaxID Corporation
Maryam.sabbagh(at)maxid(dot)net
+1 (703) 573-0125
###