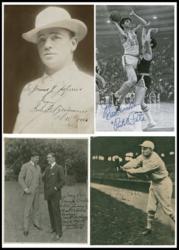 Amherst, NH (Vocus/PRWEB) March 03, 2011
Last month, auction house RR Auction, based in Amherst, New Hampshire, offered unique items from the collection of sports autograph hunter Jim Wiggins, with remarkable results. Now RR Auction is offering the next portion of Wiggins' extraordinary artifacts.
Wiggins began collecting signatures as a young boy after his father met Olympic swimmer and actor Johnny Weissmuller during a 1940s train ride. The chance encounter sparked a passion that lasted more than 50 years.
Consumed by the hobby and the thrill of the hunt, Wiggins read newspapers and magazines to find out where athletes and celebrities were scheduled to appear, and would bring photos or images clipped from publications when he met them in-person. He also wrote to many stars that he admired but never had the opportunity to meet; if he wrote a polite and sincere handwritten letter—with a few coins to cover the cost of return postage—most people would favorably respond. Wiggins once purchased an advertising book with color illustrations that he sent to Ty Cobb, receiving a two-page handwritten letter back with the signed image. He carefully trimmed other illustrations from the publication and was rewarded with autographs from Babe Ruth, Honus Wagner, Joe Tinker, Connie Mack, Ted Williams and Tris Speaker.
Such ingenuity and creativity served him well as Wiggins took writing to the next level, earning a degree in journalism and spending more than 30 years as a newspaper and magazine writer and editor. In the 1950s and 1960s, those positions afforded him the unique and unprecedented opportunity to access astonishing news service photos of athletes that were otherwise not available to the general public. The results included an unusual pose of James J. Braddock, uncommon and vintage shots of Woody Hayes and John Wooden, an action shot of "Pistol" Pete Maravich at LSU, Joe Namath at the 1965 Orange Bowl, and a relatively youthful "Papa Bear" George Halas…each signed during an era when most fans were focusing on autograph books or slips of paper.
Wiggins did not collect solely "big name" stars of the era, but gathered autographs from often-overlooked players from golf and tennis, as well as executives Branch Rickey, Dan Reeves and many others. Such access, and an inherent knack of knowing what to get signed, resulted in a collection of some of the best images of the finest athletes of their era.
The special collection is part of RR Auction's current auction, which began on February 19th. Bidding runs through Wednesday, March 9th. More details can be found online at http://www.rrauction.com.
# # #