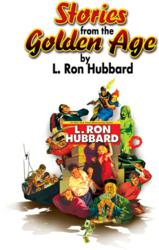 Hollywood has long known the treasure trove these Golden Age stories contained. Now we are seeing the reader becoming more and more cognizant of this fact
Hollywood, CA (Vocus/PRWEB) March 02, 2011
"Stories from the Golden Age just surpassed its one millionth sale," announced John Goodwin, President of Galaxy Press, the publisher for the line of books written by L. Ron Hubbard during fiction's Golden Age. (http://www.goldenagestories.com)
Announced just days before Hubbard's centennial celebration is about to begin on March 13 (1911-2011), the news is significant in demonstrating the resurgence in popularity for these kinds of stories. While sales do quite well in non-traditional outlets in the US, they are also doing well in several other countries around the world where a desire to learn English as a second language has found these books with their accompanying unabridged audiobooks a great resource. "We are almost to the halfway point in the release of the line," stated Goodwin. "As awareness of this type of storytelling increases, we expect to rapidly see that two-millionth sale achieved." For a complete listing of available titles and the schedule for release of the remaining books, go to http://www.goldenagestories.com/release-schedule.
But Hubbard isn't the only author finding a resurgence in interest in his stories. Adventure House, Vintage Library, and Black Dog Books are three other publishers who have engaged an expanding audience through their reprints of such notable authors as H. Bedford-Jones, Edgar Rice Burroughs, Raymond Chandler and Dashiell Hammett. Sales continue to increase as readers discover that many of their favorite characters, such as Luke Skywalker, Indiana Jones, Superman and Spiderman, have their roots in such perennially popular characters as Doc Savage, The Spider and The Shadow. "Hollywood has long known the treasure trove these Golden Age stories contained," Goodwin stated, "now we are seeing the reader becoming more and more cognizant of this fact."
Stories from the Golden Age contain 153 stories written by Hubbard that are being published in 80 volumes, in a wide spectrum of genres, including adventure, western, mystery, detective, fantasy, science fiction and even some romance, using his own and 15 pen names.
For more information about the Stories from the Golden Age, go to http://www.goldenagestories.com.
# # #