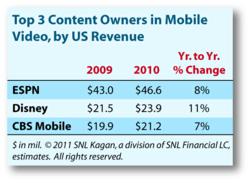 SNL Kagan expects iPad users alone will at least double this year in the U.S. thanks partly to high expectations for the iPad 2.
Monterey, Calif. (Vocus/PRWEB) March 03, 2011
With iPads, Apps, Smartphones and eReaders taking the marketplace by storm, programming went mobile in full force in 2010. Although last year brought strong revenue growth for aggregators and technology experts, revenue for content owners lagged behind. According to SNL Kagan's report on the 'Economics of Mobile Programming,' the shift away from carrier decks to apps has simplified mobile video discovery, and, though use has grown, 2010 marked the slowest year of growth yet for U.S. mobile video revenue.
From the perspective of large national programmers like ESPN and Nickelodeon, video revenue is still a rounding error, and, for many others, mobile continues to be considered a marketing expense.
For instance, ESPN maintained its lead in the U.S. mobile video market with nearly $47 million in 2010 revenue, but that figure represents less than 1% of the $7 billion it generated from MSO affiliate fees and advertising in the same year. The excerpt shown to the right is from the report's top 30 US mobile video programmers and aggregators by revenue table, which spans back to 2002.
Counter to the relatively low market share captured by mobile video, 2010 closed strong for tablets, which grew from nearly zero users in 2009 to several million in the U.S. alone. Amid the flurry of Apple's iPad2 unveiling yesterday, John Fletcher, analyst at SNL Kagan commented, "For years, small screen handsets have hindered mobile video adoption but touch screen Smartphones and now tablets are removing this limitation.SNL Kagan expects iPad users alone will at least double this year in the U.S. thanks partly to high expectations for the iPad 2."
Alternately, no paid iPhone apps focusing on video have charted well to date. As of October 2010, the top five paid iPhone apps were all game titles, with the highest grossing title, Tetris, generating under $20 million in lifetime revenue. The chart shown below is an excerpt from the top 39 app developers by revenue from the report.
While business models are in flux, the future of mobile video is still bright as Smartphone users grow to a reported 30% of U.S. subs, and TV Everywhere deals continue to expand. In the full version of the report, find out which mobile video genres are most popular and which companies are growing the fastest and why.
The report features profiles of the leading 27 players, Smartphone users by OS, U.S. Smartphone Projections 2007-2020, and US Mobile Video/TV Subscribers and Monthly Users projections 2007-2020.
The full 2010 edition of the Economics of Mobile Programming is available exclusively as part of the SNL Kagan Unlimited Information Service. For more information, contact mailto:SNLKaganSales(at)snl(dot)com or +1.866.296.3743.
About SNL Kagan
SNL Kagan, a division of SNL Financial LC, is a comprehensive resource for financial intelligence in the media and communications sector, including the broadcasting, cable, entertainment, motion picture, telecom, wireless, satellite, publishing and new media industries. The SNL Kagan suite of products integrates breaking news, comprehensive data and expert analysis into an electronic database available online and updated around the clock. For more information, visit http://www.snlkagan.com
SNL Financial
One SNL Plaza
Charlottesville, VA
22902
434.977.1600
Other office locations:
Ahmedabad, India; Arlington, Va.; Boston, Mass.; Boulder, Colo.; Islamabad, Pakistan; Jersey City, N.J.; London; Monterey, Calif.; New York; Richmond, Va.
Visit SNL in the Media to learn more about resources available to members of the media.
SNL Financial on LinkedIn: http://linkedin.com/company/snl-financial
Follow Us on Twitter: http://twitter.com/#!/SNLFinancial/snl-corporate-directory-2
Press Contact: Christina Twomey
SNL Financial, LC
ctwomey(at)snl(dot)com
434.951.6914 desk
434.825.3773 mobile
@christinatwomey Twitter
Christinatwomey Linked In
###